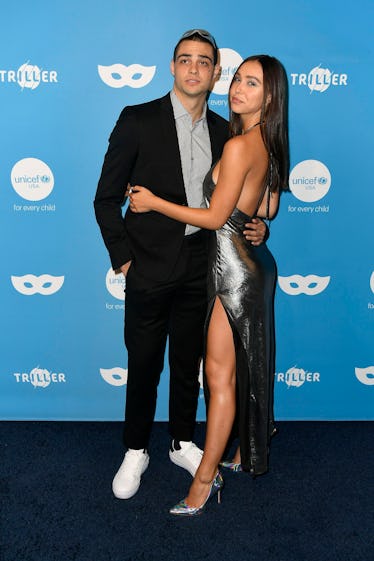 Noah Centineo & Alexis Ren's Body Language At The UNICEF Ball Was Awkward
Frazer Harrison/Getty Images Entertainment/Getty Images
After months of speculation, America's boyfriend Noah Centineo and Instagram baddie Alexis Ren finally made their relationship public at the UNICEF Masquerade Ball on Oct. 26, and they did not disappoint. The couple looked gorgeous on the red carpet, and all for a good cause. Wholesome, cute, and heart-warming, right? Yes, but according to experts, Noah Centineo and Alexis Ren's body language at the UNICEF ball was a little, well... uncomfortable. But don't panic! NRE (New Relationship Energy) is real, and it seems like this couple might still be getting the red-carpet swing of things.
Some background: Their first public appearance comes six months after fans first started speculating that Centineo and Ren might be dating. Prior to the UNICEF ball, the most compelling evidence that a romance was brewing between the two was a fan's selfies back in May 2019. Although the fan took separate photos with each star, the background of both selfies looked suspiciously similar, making it clear Ren and Centineo were at the same place at the same time: a Vancouver café. The window decoration was the same, and stans made the case that they were on a coffee run together.
Then, in October 2019, the two made it Instagram official. First, Ren posted a picture of two coffees on a table captioned, "Where's maaaahhh babyyyy?" To that, Centineo replied with a coffee-in-hand selfie captioned, "I'm right here." He also posted a video of himself playfully scaring his rumored GF to his Stories, which was classic swoon-worthy Noah Centineo material.
Making their official red-carpet debut, the two were finally photographed together at the UNICEF Masquerade Ball. While this could seem like a victory for Centineo and Ren's stans, I spoke to two body language experts for their take on the first official photos of them together. Here's what they had to say.