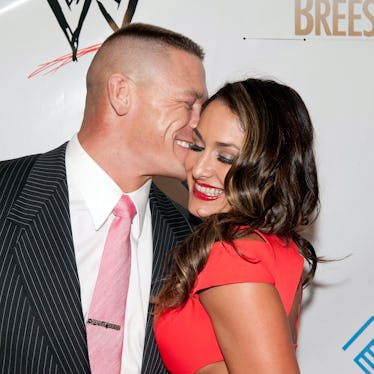 Wait, What?! Nikki Bella "Truly Hopes" She Reunites With John Cena & I'm Confused
Erika Goldring/Getty Images Entertainment/Getty Images
Brace yourselves, people. I'm ready to warm your heart right up. While a called-off engagement signifies the end of the road for most couples, new reports offer us a small glimmer of hope. Where is this glimmer of hope coming from, you ask? Allow me to explain. Well, after calling off their engagement a while back and subsequently crushing the hearts of their fans across the globe, Nikki Bella wants to date John Cena again. So I guess love isn't dead after all!
Let me back up here for a second. In April 2017, John proposed to his BAE of five years, Nikki on live TV at WrestleMania 33. It was beautiful. Two people in a similar field, madly in love deciding to share the rest of their lives together as people across the globe watched along.
Needless to say, people were overjoyed at the news and fans could barely wait until their May 5 wedding. Then, almost a year after that dreamy engagement, everything came crumbling apart.
You see, a point of contention for the couple has always been that Nikki wants kids while John does not. In the season three premiere of Total Bellas, Nikki got real about how she's been feeling about the matter.
The episode starts off with Nikki and John hosting a family dinner at their new home. When the family starts talking about all of the new babies in the family, Nikki starts to get visibly upset. Later, she explains to the cameras in a clip exclusive to E!:
What's hard at times, what people don't realize about my relationship is I'm alone a lot. And I'm alone in these big beautiful homes which you're like, 'Gosh, these homes are unreal.' But to be honest, since we've gotten engaged, John and I have probably shared our bed together maybe 30 days total out of like six months. Or 40 days. So hearing Brie and Lauren and JJ and Bryan all talk about their family stuff and their kids, it makes it like just sink in a little bit more of how lonely it will be and how lonely it gets.
A child, of course, could help with Nikki's loneliness but that was reportedly out of the question as far as John was concerned. "It's not fair to a kid to bring them into the world if you're not prepared to be focused on them, and he's just not," an insider exclusively told People. "He doesn't want to be an absentee parent and he doesn't see how he wouldn't be given everything he wants to do in his career and in his life."
Ugh, heartbreaking. Finally, a month ago, their relationship problems came to head and the couple decided to split, announcing in a statement provided to Us Weekly:
While this decision was a difficult one, we continue to have a great deal of love and respect for one another. We ask that you respect our privacy during this time in our lives.
It looked like it really might have been the end of the road for the couple... until now.
In an interview with Hoda Kotb and Kathy Lee Gifford on Today, John shocked the world by proclaiming that he just might be ready to take the plunge and be the dad and husband Nikki dreamed of.
I love her. I want to be with her. I want to make her my wife. I want to be the father of her children. I just want us to work.
Um, can you say CURVEBALL?!
As you can imagine, reports say Nikki was "shocked" at these comments, but it looks like they may have warmed her up to the idea of a reconciliation. I say this because in an interview with Entertainment Tonight just yesterday, she literally says she hopes that they get back together:
John is such an amazing man. He really is the love of my life. I truly hope one day that we can work it out and get back together. I think there is hope.
So, let me get this straight. He wants to get back together with her and she also wants to get back together with him. Hmm... I wonder how this will play out.
Check out the "Best of Elite Daily" stream in the Bustle App for more stories just like this!