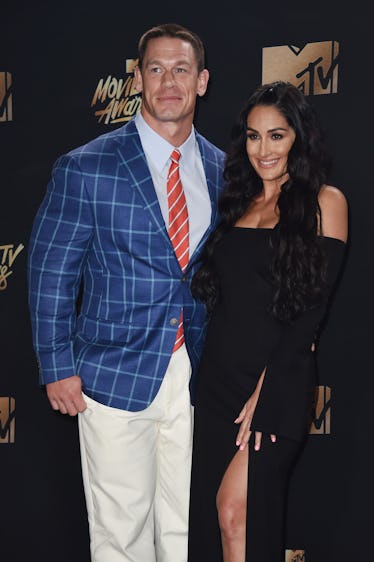 The Reason Nikki Bella Kept Her Wedding Dress Despite Calling Off Her Wedding Is So Sad
Alberto E. Rodriguez/Getty Images Entertainment/Getty Images
I don't know about you, but when I heard that John Cena and Nikki Bella split up, I got really, really sad. The couple devastated fans by announcing their separation on April 15, just weeks before their destination wedding in Mexico, but they have since been sending the world on a bit of a roller coaster ride with where their relationship is at now. At first, it seemed like love was dead for good, but now, it seems like there might be hope for a reconciliation. I mean, why else would Nikki Bella have kept her wedding dress if she didn't think there was another shot of wearing it while walking down the aisle?
The Total Bellas star opened up to Life & Style magazine and revealed that she decided to hold on to her wedding dress because she hopes that she and Cena will "end up together."
BRB, sobbing.
"I kept it because, honestly, I think that John and I will probably end up together," Bella revealed, adding, "He is my best friend and I love him."
She also talked about how, despite the fact that she was planning her "dream wedding," something didn't feel right about it. She said:
If it doesn't feel right, if there is any type of hesitation, you have to figure it out and...[not] be afraid ... I just didn't want to walk down that aisle and give those vows and have hesitation or have regret. The day I give those vows, I truly want to be with that person until death do us part, and I have that hope for John and I. I really do. But right now I just have to deal with the issues that gave me cold feet.
Honestly, I think it's incredibly refreshing to hear a celebrity speak so candidly, especially around a touchy subject like breaking off an engagement. It's messy, yes — but it's also much better to call it off than to go through with it and ultimately have regrets.
And, while there was some speculation as to why the couple called it quits (Cena reportedly was unsure if he wanted to have children, while Bella wanted to have a family), it seems like that wasn't really the issue at hand. "I'm just in a period of my life that I really need to work on me," Bella said. "A healthy me is a healthy us."
YAS, girl! I'm on board with all of this, especially if it means that a future with Cena might be in the cards, which Bella has spoken about before.
In an interview at a Total Bellas junket, Bella told Entertainment Tonight that there's a possibility for the pair to get back together. She said,
John and I, we absolutely love each other and we care about each other a lot. We are best friends and, right now, we're both giving each other time separately and maybe there's hope that we reunite in the future.
Oh, don't mind me. Just planning the Bella/Cena wedding 2.0 in my head right now.
Bella also told Entertainment Tonight that Cena is "the love of her life," so that's pretty much adorable. She said, "John is such an amazing man. He really is the love of my life. I truly hope one day that we can work it out and get back together. I think there is hope." I know my opinion means absolutely nothing, but I'm totally feeling like there's hope for these two also.
And, while they might not be walking down the aisle again (yet), it appears that the two pro wrestlers might be rekindling things already. People reported that a source close to Bella and Cena have said that the two are back together once more. Elite Daily reached out to both Bella and Cena's reps for comment on this new report, but has not heard back at the time of this publication.
The source close to the pair said, "They both got a wake-up call once they canceled the wedding, and they both realized they could fix what was broken ... They never stopped talking. Other than the actual wedding weekend, when they took some space, they have been talking."
Maybe we won't be getting a wedding invitation in the mail from them anytime soon (or ever, in my case), but I think it's safe to say that the world can hold out a little hope that Bella might step into her wedding gown sooner rather than later.