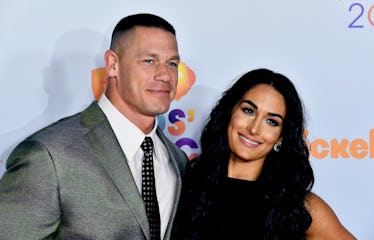 John Cena & Nikki Bella Couldn't Agree On This One Thing During Their Relationship
Frazer Harrison/Getty Images Entertainment/Getty Images
Lots of things can make or break a relationship. While some couples split over infidelity, others simply find that they've grown apart. But for John Cena and Nikki Bella, it's looking as though neither of those things were on the table. So, why did John Cena and Nikki Bella break up? Could the topic of kids have played a part in their recent split?
While it's not 100 percent certain that kids were the breaking point in the relationship, parenthood was definitely a point of contention for the couple. Throughout their six years together, there were numerous reports that they simply couldn't find common ground when discussing parenthood. While Bella, 34, was keen on becoming a mom, Cena, 40, reportedly wasn't quite ready to be a dad.
According to an April 17 report from People, a source close to Bella and Cena suggested that Cena is "almost singularly focused on his goal of being a mega-famous performer, entertainer, and actor." Elite Daily reached out to Cena and Bella's teams for comment but did not hear back by the time of publication.
All of that leaves little room for having children.
If true, this report wouldn't be the first time fans have heard that Cena wasn't ready for kids. Back in 2014, during an appearance on E!'s Total Divas, Cena told Bella he wasn't ready for that kind of commitment:
I'm trying to be a realist. I've told you I don't want to get married and I don't want to have kids, and you do want to get married and you do want to have kids. So, I feel like there's this time bomb over my head.
Seems like Cena was always pretty clear about his desire — or lack thereof — to be a father.
Watch the scene for yourself:
The insider source also told People that Cena wasn't prepared to choose between his successful career and being a dedicated parent:
It's not fair to a kid to bring them into the world if you're not prepared to be focused on them, and he's just not. He doesn't want to be an absentee parent and he doesn't see how he wouldn't be given everything he wants to do in his career and in his life.
Seems reasonable enough. But it seems Bella had other ideas about her future and decided to compromise for Cena, which may have led to a rift in the relationship. In April 2017, Bella told People that she was coming to terms with not becoming a mother:
I have come to that decision of being okay with it that I won't be a mom. Now I get to be a bride and a wife, and I'm good with that.
This was just days before the couple officially announced their split on April 15, which makes it seem as though Bella wasn't entirely comfortable with compromising her dream of being a mom.
Career goals may not have been the only reason Cena decided to sidestep fatherhood. The unnamed source also explained to People that Cena's experience with children from the Make-A-Wish Foundation has made him wary of bringing kids into the world:
To contemplate bringing a child into this world who could then get hurt or sick — it would be more than he could take. But you can't live your life according to a possible worst-case-scenario. His brother has health problems — but if anything, that should just show him that these things can be manageable, because John does help with that stuff a lot.
Oddly enough, Cena's work with terminally ill children was one of the reasons Bella wanted to have children with him. When discussing motherhood with People, she said that he'd make an "incredible father" just based on his charity work alone:
When I see him with all the Make-a-Wish kids, I'm like, 'Gosh, this man would be the most incredible father ever.' He just loves those kids and he has such a big heart for them.
Whatever happened between the two, it's clear they just weren't seeing eye to eye. Hopefully they find happiness in the next chapter of their lives!