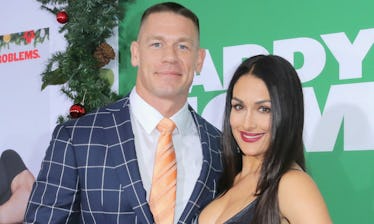 The One Thing Standing In The Way Of Nikki Bella & John Cena Reuniting Officially Is So Sad
Rachel Murray/Getty Images Entertainment/Getty Images
Can we talk about Nikki Bella and John Cena for a minute? Because I am just so confused about their relationship status, and it's seriously stressing me out. One minute the pro wrestling couple is calling off their engagement, and the next, reports are swirling that they are actually back together. I totally ship this pair and really, really want them to get their crap together. But apparently Nikki Bella and John Cena's relationship is still not official, and the reason why is actually pretty sad.
See, Cena is getting ready to leave the country to work on a new movie called The Janson Detective, with Dwayne "The Rock" Johnson. Whether or not our heads will explode from the sight of these two chiseled male specimens on the screen together remains to be seen — as does whether or not Bella and Cena's romance can survive the long distance.
"One of the reasons that they can't seem to work things out is because he's getting ready to leave the country for four months," a source told Entertainment Tonight, adding that the two have tried the whole "U can't see me" thing before, and it "wasn't great" for their relationship."
Elite Daily reached out to both Bella and Cena's camps for comment on the report, but did not hear back by the time of publication.
"They're not the kind of couple where it's 'absence makes the heart grow fonder,'" the source said. "They're more 'out of sight, out of mind,' so this distance isn't going to be good for them. They work best when they're working together and can be together all the time."
Such a bummer, right? I mean, after calling off their engagement just weeks before their May 2018 wedding, these two really seemed like they were trying to make things work. But timing is everything, and it looks like Cena's movie couldn't come during a worse stretch of time.
"They want to be together and be happy, but their priority is very much on their careers right now," the source continued. "And they're both on the same page with that."
And then there's the fact that, according to People, Bella and Cena are still having some trust issues following the whole Cena-doesn't-want-kids-but-then-he-suddenly-does-want-kids thing, and Bella is just trying to figure out what's best for her right now.
"Nikki doesn't know if she trusts John still," a source said. "Is he really saying he wants to be a dad just for her or does he truly want to have children? The more attention this is getting, the more pressure Nikki feels."
Elite Daily reached out to Bella and Cena's teams for comment on reports that they're experiencing trust issues, but did not hear back by the time of publication.
Anyway, I really hope these two work it out. Remember that fairytale proposal, the one where Cena asked Bella to marry him in April 2017 from the middle of the ring during an appearance at Wrestlemania 33?
So epic. The whole thing was just so amazing. But sadly, the engagement lasted only around a year, with the relationship coming to an end shortly after Bella finished up her nine-day bachelorette celebration in France. Yup, her bachelorette party lasted nine days. And it was in France. And I am so not jealous or anything. Not one tiny, little bit.
The couple officially announced their split on April 15. Bella took to Instagram to share their official statement:
And Cena turned up on Twitter to share his thoughts the next day:
"Hardship, loss, and humility are extremely difficult waters to navigate," he wrote. "But perseverance thru them builds a strength to withstand anything life throws your way."
Here's to hoping that perseverance helps these two find their way back to each other once and for all.