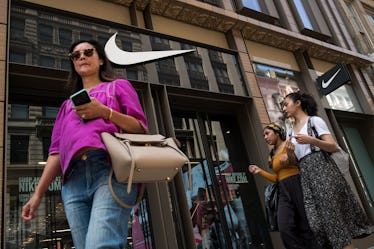 You Can Get 20 Percent Off Sneakers, Leggings, & More With Nike's Black Friday Sale
Drew Angerer/Getty Images News/Getty Images
Before Santa rounds up his reindeer and comes to town donning that iconic big red suit, Black Friday beats him to the punch. The biggest shopping day of the year spreads its own holiday cheer by encouraging anyone and everyone celebrating the Christmahanakwanzika season to stock up on goodies to gift unto others and treat themselves to, all at discounted prices — and by "encouraging," of course, I really mean it bombards your email inbox and replaces every social media advertisement with deals displayed in large, bolded text. But there are some sales, like Nike's 2018 Black Friday sale, for instance, that are kept so tightly under wraps, you have to stay on your toes (and your phone) until the clock strikes midnight on Nov. 23. But even though some of the biggest deals Nike's scheduled to roll out probably won't be revealed until after your Thanksgiving feast is through, the brand has blessed us with a few sneak peek deals that, trust me, you don't want to miss out on.
TBH, prior to it being a part of my day job come Nov. 1 to get the inside scoop on the best Black Friday deals, I used to go into post-Thanksgiving shopping blindly, without an agenda of any kind to guide me. These days, though, I'm so conditioned to be on the lookout for the year's top discounts, that I'm pretty sure, even if I didn't have to be on top of the latest deals, I'd still want to be in the know regardless — especially when it comes to workout attire. Brands like Old Navy and Outdoor Voices announced their 2018 Black Friday athleisure sales early, but a select few name brands, such as Nike, seem to be staying tight-lipped for as long as possible.
Loyal Nike shoppers may or may not have noticed the brand plays off a very specific pattern each year, so it might be safe to assume that the footwear and fitness apparel behemoth will mirror similar sales for 2018 as well. For instance, according to Finder.com, it's tradition for Nike to drop new products on Black Friday. Lo and behold, right there in plain ink at the bottom of Nike's Black Friday Collection webpage, the brand announced it will be releasing some of its "most exclusive gear," including special-edition shoes and jerseys, on Nov. 23, 2018, with styles from Jordan, Nike SB, Nike Running, and more being featured. So at least there's that to look forward to.
As far as additional sales go, however, it looks like the brand won't be spilling the beans on those just yet. Combing the internet for even the slightest hint of what's to come, it looks like Nike's Black Friday deals are going to be scattered throughout the brand's website, and discounts will fall somewhere around 25 percent off, according to Finder.com. Unfortunately, this setup means you'll have to do a little digging for the best steals come Black Friday, but consider it a scavenger hunt of sorts, in which the prizes include all of your favorite athletic-wear pieces. I don't know about you, but, personally, I'd play.
Though, on the bright side, even if Nike's Black Friday sale kind of sounds like a game of hide and seek in the dark, the brand has bestowed upon us a surprise 20 percent off coupon you can use right now on select styles when you apply the code "THANKS" at checkout. So if you've had your eye on the Nike Zoom Fly, or Fearless Flyknit 2, a comfy sweatshirt, or warm leggings for winter training sessions, now might be the time to take advantage of the discount. Keep an eye out for additional price docks on clearance items, too, as those are likely to come down as well.