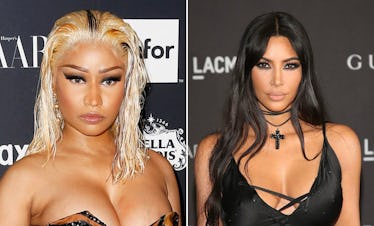 Nicki Minaj Hilariously Called Out Kim Kardashian In Her People's Choice Awards Speech
Dominik Bindl & Jesse Grant/Getty Images Entertainment/Getty Images
Look, I love nothing more than women supporting women. That's how I felt when Nicki Minaj's People's Choice Awards speech called out Kim Kardashian and her one particular asset. Even though Minaj was being honored for her incredible work on her new album, Queen, her mind was on something else. Minaj concluded her thank you speech for Album of 2018 by stating, "I wanna dedicate this award to Kim Kardashian's ass in that dress."
Honestly? #Same.
If I can be frank with you guys, the People's Choice Awards was a pretty tame show this year. Usually, fans can look forward to outrageous moments, big speeches, and jaw-dropping performances. Instead, this year was mostly full of awkward comments, clumsy speeches, and cringe-worthy moments. Minaj did slay with her performance at the beginning of the show, but it was kind of downhill from there. Across the board, she was one of the few people who kept it interesting.
Earlier in the night, she accepted the award for Female Artist of 2018, beating out Taylor Swift, Cardi B, Ariana Grande, and Camila Cabello. During that speech, she thanked Donatella Versace for designing her dress and then gave a "shout out to Michael B Jordan because he's going to be taking it off me tonight." Uh, hello!
Just when we all were recovering from that comment, the Kardashians took the stage to accept the Reality Show of 2018 award. Almost every famous family member was present except for Kylie Jenner. Each sister looked fierce AF, obviously, and Kris Jenner refused to take off her sunglasses (which I loved). Kim took their time on stage to draw attention to the horrific wildfires crossing her home state right now in California, and while her speech was touching, fans couldn't help but notice her dress. Kim was decked out in a nude-colored ensemble that looked like it could have been painted onto her body. In the audience, Minaj must have been eating it up.
Before shouting out Kim's peach emoji, Minaj dedicated her Queen album to "all the queens out there." She said,
Thank you to all of the queens around the world that are maybe not at the place they want to be in their lives, but the fact that you are pushing and you are not being lazy and not complaining but going for your dreams every day, shout out to you.
Then, she got around to "Kim's ass in that dress."
Fair enough.
After Minaj left the stage for the second time, my eyes glazed over until John Legend jumped on stage and saved the show the only way he knows how — with a suit, a piano, and the voice of a baby angel.
I don't know what happened at the PCAs, but usually when you get Nicki Minaj, most of the Kardashians, John Legend, and the cast of Vanderpump Rules in one room, it should call for an amazing time.
Thank you Nicki for keeping it interesting and real out there.