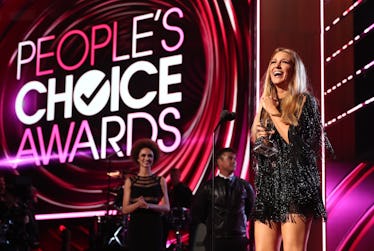 The 2018 People's Choice Awards Nominations Will Make You Choose Between Your Favorites
Christopher Polk/Getty Images Entertainment/Getty Images
It's coming, movie and television buffs! E!'s 2018 People's Choice Awards are pummeling towards your television and bringing incredible nominees and presenters with it. The 2018 People's Choice Award nominations are truly impressive and include some serious cutthroat competition this year. No pressure, but the cool thing about this award show is the winners are chosen solely by you — the people! 2018 was a massive year for movies, television, and music, and I'm not really sure how the average fan can have this much pressure on them. I'm looking at the list now and don't even know where to start. (Just kidding, yes I do. Crazy Rich Asians and Vanderpump Rules all the way.)
The People's Choice Awards previously aired on CBS, but has officially swapped hands to E!. According to the network, it will have new "E! flare added in for good measure." (Whatever that means.) There are 43 categories and literally hundreds of nominees to sift through. It will also be broadcasted on 17 international channels in 153 different countries, AND translated into 24 languages.
So yeah, it's definitely for the people.
Here's how it works: Right now, there are 12 nominees per category. Fans can vote via pca.eonline.com or on Facebook by including one category hashtag, one corresponding nominee hashtag, and the hashtag #PCAs. You can also send a tweet or retweet including the same information if you prefer to vote on Twitter. On Sept. 14, the top five finalists per category will be locked in. After that, final voting will be open from Sept. 24 to Oct. 19, with results being tallied for the final reveal on the night of the show.
You can peep some of the most exciting categories and nominees in the list below, and tune in for the 2018 People's Choice Awards live on E! on Sunday, Nov. 11 at 9 p.m. EST. You can also catch "Live From The Red Carpet: The E's! People's Choice Awards" kicking off at 7 p.m. EST.
THE MOVIE OF 2018
A Quiet Place
A Wrinkle in Time
Avengers: Infinity War
Black Panther
Deadpool 2
Fifty Shades Freed
Incredibles 2
Jurassic World: Fallen Kingdom
Mission Impossible: FalloutOcean's 8
Ready Player One
Solo: A Star Wars Story
THE MALE MOVIE STAR OF 2018
Chadwick Boseman, Black Panther
Chris Hemsworth, Avengers: Infinity War
Chris Pratt, Jurassic World: Fallen Kingdom
Dwayne Johnson, Skyscraper
John Boyega, Pacific Rim
Michael B. Jordan, Black Panther
Nick Robinson, Love, Simon
Paul Rudd, Ant-Man and the Wasp
Pierce Brosnan, Mamma Mia: Here We Go Again
Robert Downey Jr., Avengers: Infinity Wars
Ryan Reynolds, Deadpool 2
Tom Cruise, Mission Impossible: Fallout
THE FEMALE MOVIE STAR OF 2018
Anne Hathaway, Ocean's 8
Bryce Dallas Howard, Jurassic World: Fallen Kingdom
Emily Blunt, A Quiet Place
Evangeline Lilly, Ant-Man and the Wasp
Jennifer Lawrence, Red Sparrow
Leslie Mann, Blockers
Lily James, Mamma Mia: Here We Go Again
Melissa McCarthy, Life of the Party
Oprah Winfrey, A Wrinkle in Time
Reese Witherspoon, A Wrinkle in Time
Sandra Bullock, Ocean's 8
Scarlett Johansson, Avengers: Infinity War
THE SHOW OF 2018
13 Reasons Why
9-1-1
America's Got Talent
Grey's Anatomy
Modern Family
Saturday Night Live
The Big Bang Theory
The Good Doctor
This Is Us
The Walking Dead
Will & Grace
WWE Raw
THE MALE TV STAR OF 2018
Andrew Lincoln, The Walking Dead
Cole Sprouse, Riverdale
Freddie Highmore, The Good Doctor
Jesse Williams, Grey's Anatomy
Jim Parsons, The Big Bang Theory
Justin Chambers, Grey's Anatomy
Iain Armitage, Young Sheldon
Milo Ventimiglia, This Is Us
Norman Reedus, The Walking Dead
Scott Foley, Scandal
Sterling K. Brown, This Is Us
Tony Goldwyn, Scandal
THE FEMALE TV STAR OF 2018
Camila Mendes, Riverdale
Elisabeth Moss, The Handmaid's Tale
Ellen Pompeo, Grey's Anatomy
Danai Gurira, The Walking Dead
Issa Rae, Insecure
Kaley Cuoco, The Big Bang Theory
Kate McKinnon, Saturday Night Live
Kerry Washington, Scandal
Kristen Bell, The Good Place
Lauren Cohan, The Walking Dead
Mandy Moore, This Is Us
Viola Davis, How to Get Away with Murder