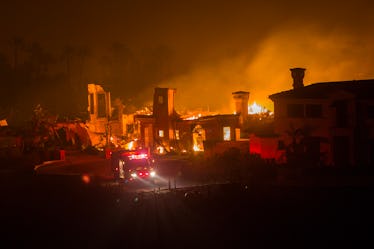 Here's How To Help Victims Of The November California Wildfires, Because The Damage Is Serious
David McNew/Getty Images News/Getty Images
Once again, wildfires are raging across the golden state, this time spreading from both the north and south ends of California. From the north, the Camp Fire has since engulfed thousands of homes, making it the state's most destructive wildfire to date, while residents in Malibu and Thousand Oaks have had to flee the increasingly destructive Woolsey and Hill Fires. As of Saturday, Nov. 10, the inferno has claimed at least nine lives and left 35 missing, incinerated countless residences, and even wiped out entire towns. The damage is serious, and you might be wondering how to help victims of the November California wildfires, especially as the blaze and destruction show no signs of slowing.
California has been plagued with countless wildfires this year, and a quarter of a million residents have been forced to evacuate their homes over the part couple days as three different fires — the Camp Fire in Northern California and the Hill and Woolsey fires — burned through the state beginning on Thursday, Nov. 8, leaving a path of destruction in their wake. As of late Friday, Nov. 9, officials estimated that about 130,000 acres of land have been torched, and only a fraction of the fires have been contained by firefighters struggling to work against time, high winds, and low humidity, according to CNN. At the time of publication, official estimates found that the Camp Fire — said to be the state's most destructive wildfire in recently recorded history — has been contained by 5 percent and the Hill Fire has been contained by 15 percent. The Woolsey Fire, which burned across US 101 and headed towards the Pacific Ocean through Malibu, has yet to be contained, per CNN. The victims of these fires need your help now more than ever, so here's how you can get involved.
Donate To A Local Community Fund
Your money can make a big difference to a local community group with boots on the ground, especially as these groups are usually more familiar with the impacted areas and the needs of the community than national organizations. In Southern California's Ventura County, the Hill Fire/Woolsey Fire Sudden and Urgent Needs Effort Fund is reserving all its donations to help those directly impacted by the wildfires, while donations to the North Valley Community Foundation in Northern California will aid victims from the town of Paradise, California, which has been almost completely destroyed by the blaze.
Send Cash Donations Or Supplies To A Disaster Relief Organization
Organizations like the Red Cross and the Salvation Army, while not local, have significant experience with disaster relief. You can opt to specifically designate your money to the California wildfires, and your cash donation to the Salvation Army or the Red Cross will go towards food, supplies, and shelter for victims as well as first responders like firefighters and police.
Donate Money To A Humane Society Or Foster Animals
Pets and animals are often left behind to fend for themselves when people flee a natural disaster. The Humane Society of Ventura County is asking for both supplies as well as money to help their relief efforts, while cash donations to the Los Angeles County Animal Care Foundation's Noah's Legacy Fund will help house and feed displaced dogs, cats, horses, and other animals. You can also help by fostering abandoned animals, which creates more space in shelters that are currently at capacity.
Volunteer Your Home For Free With Airbnb
As approximately 250,000 residents have been displaced by the Camp Fire and the Woolsey/Hill fires, consider listing your home as a free shelter on Airbnb. Through Nov. 29, you can sign up to house evacuees and relief workers seeking shelter from the blaze.
Donate Money To The Firefighters Charitable Organization
Firefighters are on the ground and working overtime to contain the rapidly-spreading fires. Support the work of volunteer fire departments and help fund their continued efforts as well as food and shelter by donating to an organization like the Firefighters Charitable Organization.
As the three fires continue to ravage homes and towns across California, all displaced victims are in need of immediate aid and necessities like shelter, food, and supplies. Contributing to any of these organizations will make a difference in Californians' lives, so I'd look through to determine which option works best for you. Remember, every bit helps, and no donation is too small.