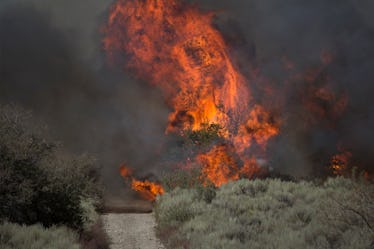 Wildfires Are Spreading Across California, & Here's How To Help Those Affected
David McNew/Getty Images News/Getty Images
The past few months have truly taken a toll on the picturesque California landscape. On July 23, an 80,000-acre started and fire spread across Shasta County in Northern California, impacting so many lives and forcing them to evacuate as of July 30. So, for those wondering how to help victims of the California wildfires, here's a rundown on how to get involved.
As of July 30, there were 17 separate wildfires burning across California, covering over 200,000 acres, according to The Los Angeles Times. On July 23, wildfires spread across Northern California's Shasta County and spread across the region. As of that date, the Shasta County wildfire alone has killed at least six people, displaced more than 38,000 individuals in the area, and at least seven people are currently missing, according to ABC 7. Many of the fires are only minimally contained, with the Ferguson fire only 30 percent contained, the Carr fire 20 percent contained, and the Ranch fire and the River fire only 10 percent contained as of July 30, according to the LA Times. As a result, residents have been left without shelter, food, money, and some are even still searching for loved ones also impacted by the wildfire.
Once news broke of the wildfires, and how it's continuing to grow, a number of organizations created ways to help these victims which include donations, housing, and aid requests. Tragedies such as these are truly unimaginable, but it's up to the public to step up and attempt to help as best as they can. So, here's how you can do your part to help those affected.