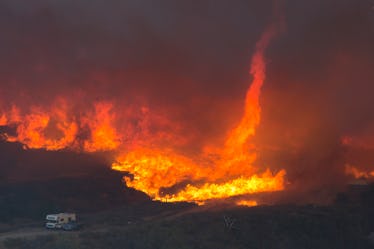 These Photos Of The California Wildfires Show How Serious This Disaster Really Is
David McNew/Getty Images News/Getty Images
On Monday, Dec. 4, a fire, generally referred to as the Thomas Fire, broke out in Ventura, California, and stretched to 65,000 acres of Los Angeles County by Wednesday morning, Dec. 6. For Los Angeles natives, a wildfire is nothing they haven't seen before. However, these photos of the California wildfires show how serious this disaster really is.
On Tuesday, Dec. 5, California Governor Jerry Brown declared a state of emergency for the Thomas Fire that, as of early Wednesday, is "still out of control," according to state officials. While the numbers continue to grow, there have reportedly been 27,000 residents forced to evacuate in Ventura and neighboring cities. On Wednesday morning, the "Skirball Fire" ignited closer to the heart of Los Angeles and grew 50 acres. The fires have reportedly destroyed at least 180 buildings with an additional 12,000 buildings at risk of future damage.
On Tuesday night, roughly 43,000 homes lost power, with the possible risk of more to come, according to Southern California Edison. The 405 freeway, as well as parts of the 101 Freeway, which are crucial passageways for Los Angeles residents and commuters, are closed down "for an unknown duration," the California Highway Patrol said. The Skirball Fire was also getting close to the Getty Center, forcing it to close temporarily on Wednesday. Furthermore, many schools in the Los Angeles districts, Santa Monica-Malibu districts, and Ventura County, were reported closed on Wednesday.
All that to say, it's looking pretty bad.
Many people have shared photos and videos of the wildfire on Twitter to convey the seriousness of the situation.
This shot was taken from the famous theme park Magic Mountain, located in Valencia, a neighboring city right outside of Los Angeles.
The fire that affected Magic Mountain was the Rye Fire, which started in Santa Clarita and has grown 5,000 acres.
Some have provided aerial views of the fire, showing a broader look at how catastrophic it is.
And some of these just straight up look like the world is ending.
"It's critical residents stay ready and evacuate immediately if told to do so," Governor Brown said in his statement declaring a state of emergency.
Los Angeles Mayor Eric Garcetti also declared a state of emergency. "We want to be really clear, folks. We have lost structures; we have not lost lives. Do not wait. Leave your homes," he said. In a statement on Tuesday, Garcetti said, "We expect to be out here all week fighting and containing this fire."
On Wednesday, President Donald Trump tweeted about the wildfire, praising first responders. He tweeted, "Our thoughts and prayers are with everyone in the path of California's wildfires. I encourage everyone to heed the advice and orders of local and state officials. THANK YOU to all First Responders for your incredible work!"
Others on Twitter are using the #CaliforniaWildfires as a chance to resurface the *heated* debate over climate change.
It's hard to say if this natural disaster will create any new discourse about climate change, considering our current administration's attempts to dismantle and defund environmental programs, as well as shrink the public land from national monuments. According to a 2016 study conducted by scientists at Columbia University and University of Idaho, climate change has doubled over the past 30 years in western states, and we can probably expect fires of a greater and more severe scale in the future if nothing is done to combat climate change. If the photos of Los Angeles are not alarming enough, maybe the threat of more fires, even worse than what we are seeing now, will wake people up.