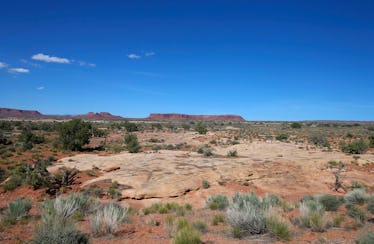 Trump Announces He Will Shrink A Utah National Monument, So That's Scary
George Frey/Getty Images News/Getty Images
On Monday, Dec. 4, many divided Utah-natives have to deal with President Donald Trump's announcement to significantly shrink Bears Ear's national monument by as much as 90 percent. In Utah, thousands responded in protest as the 1.3 million acres that former President Barack Obama deemed a national monument is under deliberation for boundary changes. In August, the current Secretary of the Interior, Ryan Zinke, reviewed 27 national monuments that were created since 1996, upon Trump's request, and suggested in a report that Trump change boundary lines on six of them. Bears Ears is first on the list to be shrunk by 85 percent, which could result in a win for Republicans that favor of oil and gas extraction and also could result in a heated legal battle.
Bears Ears is named after the two isolated hills, or buttes, that are a defining mark of the 1.3 million acres. Obama dedicated this monument in December 2016, showing solidarity with the five Native American tribes: the Navajo, the Hopi, the Ute Mountain Ute, the Ute Indian Tribe of the Uintah and Ouray Reservation, and the Zuni. These tribes spent five years lobbying for the preservation and significance of this public land. The landmark, which contains archeological remains and ancient burial grounds was reportedly used by the Native Americans as a place to hide from the U.S. government's attempts to force relocation in the 19th century.
Under the 1906 Antiquities Act, a president can expand or create a new national monument that serves as public land that should not disrupted, according to The Atlantic. Obama reportedly used this law to give protection to monuments more than any other president, which is likely precisely why Trump is yet again at odds with Obama-era policies and actively trying to undo them.
After the June report that Zinke gave to Trump, Zinke criticized Obama's decision-making in a statement, saying, "No President should use the authority under the Antiquities Act to restrict public access, prevent hunting and fishing, burden private land, or eliminate traditional land uses, unless such action is needed to protect the object."
Trump, along with many other Utah Republicans, are in opposition to the Antiquities Act and the effects of the Bears Ears monument . Utah Republicans preferred to use the public land for natural-gas extraction or other ways of profit. Basically, creating a national monument means less profit and resources from this protected land for Utah. When Obama created the monument in 2016, Republican Senator Mike Lee issued a statement to BuzzFeed News saying, "I will work tirelessly with Congress and the incoming Trump administration to honor the will of the people of Utah and undo this designation." Well, at least he meant what he said?
Utah lawmakers are not the only ones who oppose the preservation of public land. The monument may be home to Native Americans, but it is also the backyard to the mostly-Mormon town of Blanding, Utah. According to NPR, Blanding locals have complained that it's a "punishment" to have such a national debate happening in their backyard.
The Navajo Nation, with support from other environmental groups, has said they will take the Trump administration to court over this. If they use the Antiquities Act to take Trump to court, the decision could have lasting effects on how much power a president has to shrink public land and monuments. This is because courts have never actually ruled on this before. Bears Ears could be the first of many monuments that Trump gets his hands on. Trump has managed to do a whole lot of trail blazing in his presidency so far.