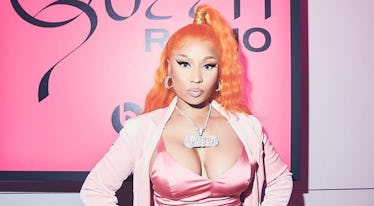 Nicki Minaj's New Orange Hair Color Is Giving Me Pumpkin Spice, Fall-Themed Realness
Since orange is the unofficial color of ~fall vibes~, I thought I'd provide you with a roundup of all the orange-toned trends for the season. The list is as follows: jack-o-lanterns, pumpkin patches, Pumpkin Spice Lattes, and Nicki Minaj's pumpkin-colored mane. Yes, you read that last one correctly — Nicki Minaj's new orange hair color is autumn-appropriate and so, so stunning.
Ever a style chameleon, Minaj is known to change up her looks rather frequently, especially when it comes to her hair. With her high level of fame comes perks like a celebrity-level glam team, not to mention access to the wigs of my wildest dreams, so it's no surprise Minaj takes full advange and rocks them all with delight. In just the final week of August, she sported a variety of shades and lengths, and managed to pull off each flawlessly. Minaj had knee-length black pigtails at the VMAs, and rocked a blonde bob for her perfomance later that evening. On Instagram, she posted three different looks — long, shiny black, short lime green, and pastel unicorn ombre — over the course of just four days, and believe me when I say she looked stunning in all three styles
She even posted an ode to her ever-changing strands on Instagram a few days ago, captioned, "Colorful hair don't care 🌈🍭" and highlighted some of her wildest shades. I highly suggest scrolling through the photos to see just how many she's mastered.
Clearly, the girl's got a thing for mixing it up, so I'm always surprised when Minaj sticks to a shade for more than a day or two. According to her Instagram, though, she's rocked a fiery, neon orange look for quite a few days now.
Behold Minaj's new 'do, which I'd typically classify as a "carrot-adjacent" color, but given the fall season, it's decidedly more pumpkin spice:
I've gotta say, I'm kind of obsessed with it? The half-up pony featuring super slicked-back roots and loads of textured length doesn't hurt, either.
And judging by the amount of posts Minaj is taking selfie-style with this hair color, I think it's safe to say she's pretty pleased with her new shade, too.
I had to patiently wait until her appearance on The Ellen Show to see the hair off of Instagram, and believe me when I say, its fiery glory lived up to the hype. As she educated Ellen and the audience as to why she needs sex three times per night, I couldn't stop staring at her fierce party pony, and I wasn't the only one.
Even SZA agreed it looks fab, calling the style "PERFECTION."
After a few days, I started to wonder whether this new 'do was a wig or if she had really gone full ginger. Sadly, though, she crushed my redhead dreams by posting yet another selfie-style video, this time black to black.
While Minaj is a beautiful brunette, she's no less beautiful when she experiments with color. Seriously, this shade basically made pumpkin spice cool again for fall. Nicki, if you're reading this, please continue on with your seasonally-themed hair lewks. I would love to see a red and green ombre come Christmastime, and you're the only one who could pull it off!