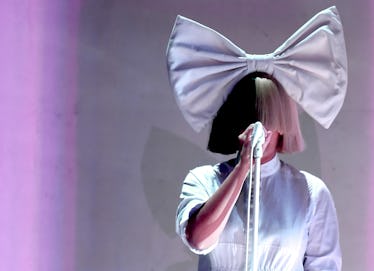 Peep What Sia Looks Like Without Her Wig & Tell Me It Doesn't Make You Scream, "I'M ALIIIIIVE"
Kevin Winter/Getty Images Entertainment/Getty Images
Celebrities, especially famous singers, often have a signature look. And when they're seen without it, they look almost unrecognizable. Case in point? Sia without her wig. On Tuesday, Aug. 14, the singer was spotted at Netflix's Ozark taste-maker event in Los Angeles without her signature two-toned wig, and she seriously looks so different. And by different, I mean, unless it was otherwise noted that the blonde-haired beauty rocking a pink pout was, indeed, Sia, I would've had no idea it was her. In fact, I'm willing to bet a lot of people wouldn't be able to recognize Sia without her long, voluminous, blunt bangs.
While it's extremely rare for Sia to be spotted in public without her wig (again, likely because most people aren't privy to what she normally looks like), you'd think her natural look was her go-to, given the way she effortlessly and confidently rocked her natural flowing mane at the Ozark event. As for the "Chandelier" singer's look, she ditched her signature massive black bow atop her black and blonde bob wig with nose-grazing bangs for easy blonde, wavy locks. She paired the natural mane with sky-high lashes, soft pink lipstick, and a chic, black outfit, with an uber on-trend black Chanel belt bag.
While we actually have seen Sia without her wig in the past, this is one of the first major events that she's attended recently without the signature look, and needless to say, she absolutely owned it.
In 2016, Sia spoke with James Corden on his segment "Carpool Karaoke" about the reasoning behind her perpetual face-covering wigs. Essentially, she said that she chose to hide her face whenever "there's cameras around." "I only wear this just to try and maintain a modicum of privacy," she told Corden. She continued that she came up with the concept of the wig because she felt pop music was missing some air of mystery. And she's right! With the constant over-saturation of knowledge about celebrities' personal lives — thanks to paparazzi and social media — maintaining a "mysterious" (read: private) life is unusual and quite rare.
In the segment, Sia also discussed how her past struggles with substance abuse lead her to needing a more private lifestyle, despite the fame she was acquiring. "I was a singer already for like 10 or 11 years to mediocre success, and I was an alcoholic and a drug addict, and I sobered up and decided I didn't want to be an artist anymore because I was starting to get a little bit famous and it was destabilizing in some way," she revealed.
Of course, avid Sia fans who have been following the Aussie singer since the early 2000s have seen her face many times before and could pick her out in a crowd any day of the week. That's likely because, if you pay close attention to her older album covers, they usually showed her entire face, though it was still slightly covered with a variation of colorful artistic designs.
Regardless, blonde and black wig or blonde flowing locks, it's a pleasure to see Sia living her best life.