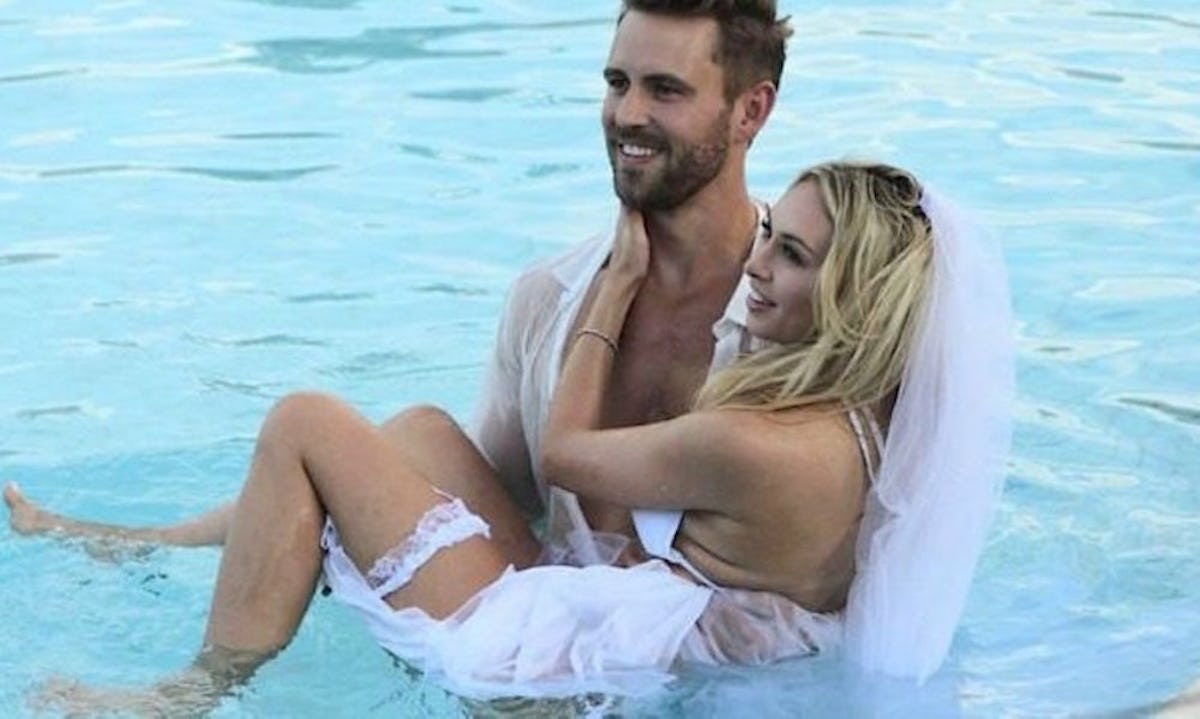 Corinne Explains Why She Instagrammed That Pic With Nick Viall & It's Not What You Think
ABC
Can't Corinne Olympios post an innocent throwback in peace? The Bachelor alum, who came in fourth place on Nick's Season 21, decided to pay tribute to her time on the show by sharing a photo of the two of them via social media on Monday. Cue the subsequent "outrage," as she puts it. It then appeared that Nick Viall was throwing shade at Corinne on Instagram following the photo, and now she's explaining why put it up in the first place.
"So, Nick and I are not dating," Corinne divulged on the recent episode of her very entertaining podcast, So Random With Corinne Olympios. "This picture was just meant for like a friendly, 'Hey, it's Bachelor Monday'!' type of thing. It caused... Obviously a pic of me and Nick is gonna get some buzz, but it caused outrage. Complete outrage. And honestly I wasn't prepared for that."
She also noted Nick's "shady" comment on the Insta photo: "This pic reminds me of your home town date… oh wait… because it was."
"What's with the shade, Nick? Chill. It was meant to be friendly. Don't flatter yourself too much. I don't need people to think I'm dating you right at this moment. Relax. It was just a Bachelor Monday throwback. Everybody can calm their little panties down," Corinne added.
There you have it.
Viall has recently rumored to be dating actress January Jones although he has not confirmed the relationship, and Corinne wasn't shy about commenting on that as well. "I feel like, maybe, January got upset about it...", she remarked.
In addition to podcasting, Corinne has been staying busy since her Bachelor stint. The hilariously candid napping enthusiast was definitely one of the most unforgettable (and GIF-able) contestants the franchise has seen in years. These days, the 26-year-old has a lot on her plate. You may remember she was at the center of last summer's Bachelor in Paradise scandal, but it appears that's behind her. "I'm just really glad that it's all kind of unfolding, that people are seeing the bigger picture, as opposed to just like 'media scandal in Paradise.' I'm really happy that everyone's moving past it now," she told The Daily Beast in September. "I feel like I explained myself pretty well [on Bachelor in Paradise.]"
It's also been reported that Olympios had two TV shows in development — a scripted series about dating, as well as a reality show. She's also in the process of working on a book.
This is all in addition to her fashion line, of course. Corinne teamed up with Riot Girls for some Team Corn-centric merch last April.
Olympios was briefly engaged following her time on The Bachelor, but the relationship ended. In early December, Corinne dished about how she had a new man in her life. Apparently that fizzled, as she told Us Weekly later that month that she was on the market. "No, I'm not seeing anyone!" she confessed. "I'm just looking for someone who's, like, chill and relaxed, supportive, cool, like, we don't need to rush into anything."
Corinne obviously has a ton going on, but she still makes time to give the people what they want. She was even kind of enough to demonstrate how to make her — or is it Nanny Raquel's? — beloved cheese pasta (it's not macaroni and cheese, people) this week through an Instagram story. We are forever grateful for this sacred knowledge.
We can't help but wonder if we'll be seeing Corinne on screen in The Bachelor universe ever again. For now, we've got her informative social media tutorials and podcast to keep us in the loop. But remember — just because she posts a photo with a guy does not mean she's currently dating them.