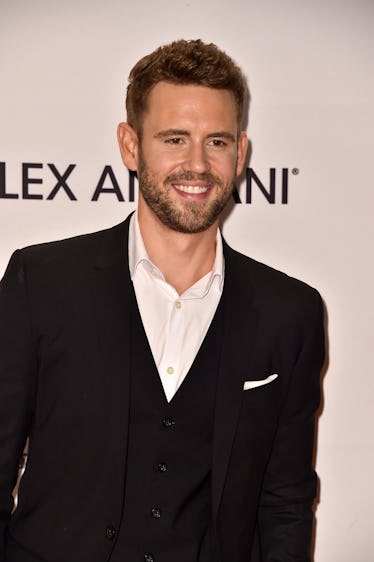 Former 'Bachelor' Nick Viall Is Reportedly Dating This Actress & We Can't Believe It
Alberto E. Rodriguez/Getty Images Entertainment/Getty Images
When you're a Bachelor alum, anything can happen. Apparently, that even includes dating a huge, award-winning actress. According to reports, Nick Viall is dating January Jones, and TBH, I didn't see this one coming. Nick Viall and THE January Jones? Sure, sure, as a Bachelor, it's practically his job to be charming and everything. This is just, like, unexpected?
UPDATE: On Feb. 20, 2018, January Jones set the record straight on her rumored relationship with Nick Viall by telling Entertainment Tonight: "He's a friend of mine. He's super sweet." She added: "No, I'm single. But, he's a friend of mine and tells me lots of inside scoops."
EARLIER: Back in November, Jones revealed that Viall had originally reached out to her after hearing she was a huge fan of The Bachelor. Apparently, he was hoping the Mad Men actress would battle him on the show Lip Sync Battle. Jones told the story during an interview on The Late Late Show with James Corden in November. She explained she couldn't quite put her finger on the guy, and that made her uneasy.
She told James Corden, "You don't know if you like him or if he's a scumbag — and I think that's why I'm attracted to him, maybe?"
She added,
He asked me to battle him on Lip Sync Battle. So is that like, his way of asking me out, or does he have a problem with me? I don't know what that was. But I declined, because I don't need to be humiliated.
Corden, like all of us, suspected Viall must have followed up with her after the Lip Sync Battle request. He asked,
You said, 'No, I don't want to lip sync battle.' And then, did he not come back and say, 'Well, do you want to get a drink or something?'
Jones replied, "No, he didn't, and that says a lot." She also said she is "so mixed" on her feelings about him.
Now, a source is suggesting Viall did, in fact, follow up for drinks. An insider told Page Six the two have actually been dating for two months. TWO MONTHS. That's an eternity in Bachelor years! The insider claimed,
She [January Jones] went on The Late Show in mid-November and said Nick had reached out to her and tried to get her to lip-sync battle with him. She declined, but then he asked her out to a drink and she accepted. They've been seeing each other since.
Reportedly, Viall also attended Jones' 40th birthday party in early January.
As a HUGE Mad Men fan and a Bachelor fan (by force), I've got to admit, I have really, really mixed feelings about this rumored romance. First of all, January Jones is one badass lady. I've always sort of seen her either ending up with a war veteran who also rehabilitates stray animals, or evolving into the first female to be able to procreate without a need for the male species.
Plus, Viall is still relatively fresh from his breakup with ex-fianceé, Vanessa Grimaldi, whom he proposed to at the end of his season on The Bachelor.
In September of 2017, Grimaldi told People magazine,
My relationship with Nick and experience on The Bachelor has given me so many amazing and memorable moments in my life, and I am forever grateful. Nick and I were always transparent about the challenges in a relationship. We certainly had ours. I fell for him hard, and when you fall in love that hard, your heart breaks even harder.
She added,
In the end, as much as we loved each other and tried to make it work, we just realized we were different people fighting to keep a relationship when ultimately we just weren't' the best fit for each other.
Maybe, somehow, that's Jones' cue. I can't wait to see how this one plays out.
Check out the entire Gen Why series and other videos on Facebook and the Bustle app across Apple TV, Roku, and Amazon Fire TV.