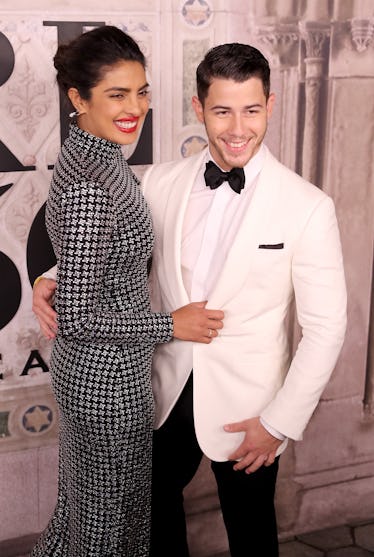 Nick Jonas & Priyanka Chopra Kicked Off Their Wedding Festivities With A Mehendi Party
Rob Kim/Getty Images Entertainment/Getty Images
It's official: Nick Jonas and Priyanka Chopra finally tied the knot during a Western ceremony on Saturday, Dec. 1, and Jo Bro fans are rejoicing around the globe. Now, the newlyweds are giving us all a sneak peak into all the parties and revelry leading up to their big day, and Nick Jonas and Priyanka Chopra's Mehendi party helped kick off the festivities in a special way.
On Saturday, the couple checked off the next step on their checklist to happily ever after as they exchanged vows during a ceremony at the Umaid Bhawan Palace in Jodhpur, India. Dressed in custom Ralph Lauren, the bride and groom were wed by Jonas' dad, Paul Kevin Jonas Sr., as Joe and Kevin Jonas, Sophie Turner, Danielle Jonas, Frankie Jonas, and Nick's mom, Denise, looked on. While the couple has yet to gift us photos of that special moment, they're taking us all on their journey to becoming Mr. and Mrs. by starting at the beginning: their Mehendi ceremony, which helped kick off the festivities.
Both Chopra and Jonas took to Instagram to share matching posts with twinning captions (aw!) of the special event, where the bride is traditionally adorned with henna body art before her wedding.
"One of the most special things our relationship has given us is a merging of families who love and respect each other's faiths and cultures," the couple captioned their Instagram posts.
Sharing the significance of the tradition, the caption continued,
And so planning our wedding with an amalgamation of both was so so amazing. An important part for the girl in an Indian wedding is the Mehendi.
While traditional Mehendi ceremonies tend to be attended by the bride and the women from her and the groom's families, one look at the pair's Instagram photos shows that the couple decided to put their own spin on the celebration. Jonas and other men from the wedding party can be seen joining in and getting henna designs along with the women, and they look like they're having a blast.
The lovebirds' concluded their matching posts, "Once again we made it our own and it was an afternoon that kicked off the celebrations in the way we both dreamed."
Now that Chopra and Jonas have given us a first look at their wedding weekend, fans can expect the rest of the photos to start slowly trickling in for the lead-up to Sunday, Dec. 2's Hindu ceremony. And it's safe to say that we're in for a visual feast.
"People will need vacations after this wedding," Chopra previously told Vogue, while Jonas chimed in, "Two very different cultures and religious backgrounds, and the beauty of it was, there was so much love and acceptance for our side."
In the days leading up to their dual wedding ceremonies, the Jonas-Chopra families kept the party going with a Sangeet party celebrating the newlyweds-to-be as well as a cocktail party on Friday, Nov. 30, so there will be plenty of photo-ops for them to share.
Again, the newlyweds will be finishing up their weekend celebration with a bang on Sunday, Dec. 2 when they make their everlasting love even more official during a special Hindu ceremony, so I'll be keeping an eye on their Instagram accounts for more priceless memories.