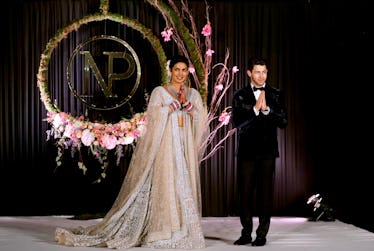 Nick Jonas & Priyanka Chopra's Body Language At Their Wedding Reception Was Unexpected
Altaf Qadri/AP/Shutterstock
As everyone and their grandmother has probably already heard, Nick Jonas and Priyanka Chopra are officially husband and wife. The two tied the knot over the weekend at two lavish ceremonies in India, featuring a 75-foot-long veil and a 15-foot-tall wedding cake. In their recently released wedding reception photos, Chopra and Jonas look super happy and gorgeous. These two make a seriously beautiful couple. But does their actual body language reflect the happiness they say they feel? Nick Jonas and Priyanka Chopra's body language at their wedding reception is sweet, but according to an expert, these two might not be super comfortable with all the attention they're getting right now.
Chopra and Jonas' relationship has certainly been a hot-button topic as of late. While they kept their relationship on the down-low for several months, their exclusive interview with Vogue revealed they were actually dating for way longer than we thought, and were on each other's radars starting in 2017. After what felt like a whirlwind romance, the two announced their engagement in August 2018 and spent the rest of the year planning the stunning wedding ceremonies that took place last weekend in Jodhpur and New Delhi, India.
While the photos they've posted since have shown them looking very much in love and thrilled to be Mr. and Mrs., I spoke to a body language expert about their wedding reception photos, taken on Dec. 4 in New Delhi, and her analysis reveals something a little... off. In short, mostly discomfort. Although it's impossible to say what Chopra and Jonas were really thinking and feeling, their body language gives us a hint, and it's really not what I was expecting.