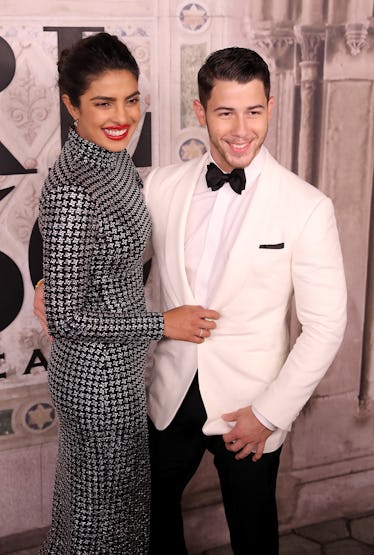 Nick Jonas Shared The Most Romantic Message About His Future With Priyanka Chopra
Rob Kim/Getty Images Entertainment/Getty Images
Sometimes, all it takes is a really cute Instagram post to turn your whole day around. If you've been reaching for the tissues over a particular celebrity breakup (you know who I'm talking about, don't act like you don't), then you'll be happy to know that Priyanka Chopra and Nick Jonas are still going strong. So strong in fact, that they are gushing about how amazing their life together will be, and I'm loving it. That's right, you guys, Nick Jonas' Instagram about his future with Priyanka Chopra is all sorts of adorable, and it will restore your faith in the idea of love.
On Monday, Oct. 15, the 26-year-old singer took to Instagram and posted a photo of himself alongside his fiancé, 36-year-old actress Priyanka Chopra. They look to be chillin' in the back of some kind of truck (or golf cart contraption? I'm not an expert), basking in a really gorgeous green field. Naturally, the two look beyond stunning, with Jonas pointing into the distance (probably just posing for the shot, TBH), and Chopra serving up a ~lewk~ in a blue striped outfit and a pair of Crocs. I swear to you, the ONLY time where I find Crocs acceptable are on Priyanka Chopra. That's it.
Anyway, Jonas captioned the photo, "When the future looks oh so bright... 😎" and tagged Chopra's Insta handle:
BRB, gotta go scan Google Maps to see where this magical place was, and to see if Nick and Priyanka are still there. (Unlikely, but a girl can dream.)
But seriously, can these two just get married already? I feel like they are such a great match, and would love to see Chopra walk down the aisle sooner than later. Fortunately, I might be in luck, because they might already be planning their wedding, according to a source. Entertainment Tonight reported that an inside source said, "Priyanka and Nick are ready to tie the knot sooner than later," adding that "The couple has had an accelerated relationship, and are very comfortable with one another."
The source continued, saying,
Priyanka has already been planning the wedding for a couple of months now and is excited to call Nick her husband one day. Priyanka and Nick are on the same page about wanting to get married earlier rather than later, and are telling friends it will most likely be next year.
While some might think that these two are jumping the gun getting engaged so quickly, Chopra was quick to explain how special their relationship is. Speaking with E! News at an event for the 2018 Tiffany Blue Book Collection in New York City on Oct. 9, she talked about her engagement to fiancé Nick Jonas. "I'm excited," she said. "It's a very different feeling. I never realized that having a boyfriend and having a fiancé are completely different. It just feels different. There's gravitas. You feel like family."
Sobbing.
She also addressed a comment Jonas recently made on The Today Show about their connection, and how their love of family and faith are what makes them so in tune with each other. She said,
We have that in common very much. We've known each other for a couple of years but we dated for just a little while, but I think that's the one thing we really connect on is our love for family and knowing faith is so important to us.
I can't with these two! What angels.
And, if you feel like listening to Nick Jonas gush about Priyanka Chopra — which of course you do — then I highly recommend watching his interview below:
I'm going to have to agree with Nick Jonas on this one, you guys. They're future seems so damn bright. Guess it's time to go buy some shades!