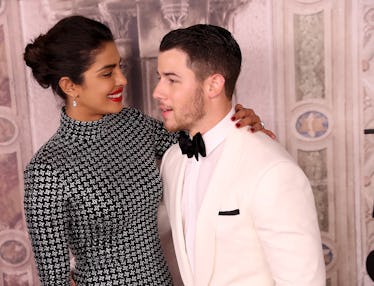 Priyanka Chopra Just Revealed Exactly Why She Fell In Love With Nick Jonas So Quickly
Rob Kim/Getty Images Entertainment/Getty Images
I am seriously loving all the whirlwind celeb engagements this year. It's all just so romantic, you know? But my fave couple currently living that engaged life has to be Priyanka Chopra and Nick Jonas. They are just so freaking cute and into it. Like, every time I turn around, they're gushing about how much they love each other and how happy they are to be together. Total goals! And if that wasn't enough, we now have Priyanka Chopra's comments about Nick Jonas and why the two of them are so sympatico. The secret to their major bond? Family over everything.
The Baywatch star spoke with E! News about what it's like to be engaged to Jonas on Oct. 9, while appearing at an event for the 2018 Tiffany Blue Book Collection in New York City. "I'm excited," she said. "It's a very different feeling. I never realized that having a boyfriend and having a fiancé are completely different. It just feels different. There's gravitas. You feel like family."
Aw, sis! That's actually so sweet. Chopra also addressed a comment Jonas recently made on The Today Show about the fact that what connects the two stars is their mutual love of family and faith.
First, check out Jonas' comments:
So much love!
Now, here is Chopra's response:
We have that in common very much. We've known each other for a couple of years but we dated for just a little while, but I think that's the one thing we really connect on is our love for family and knowing faith is so important to us.
Honestly? These two just seem like the most perfect match ever.
According to People, Jonas proposed to Chopra on her 36th birthday on July 18 while the two were in London. Once they were back in the states, the "Chains" singer went and closed down an entire Tiffany & Co. store to buy his fiancée an engagement ring. And, like, OMG you just know his fave movie is Sweet Home Alabama.
TBH, I still don't get how Reese Witherspoon chose the other guy at the end of this flick. Patrick Dempsey shut down Tiffany's for you, girl!
Anyway, back in the real world, Chopra and Jonas finally confirmed their engagement on Aug. 18 with a post on Chopra's Instagram feed that featured an artsy pic of the stars staring into each other's eyes. The shot also prominently displayed the Quantico actress' gorgeous cushion cut ring, because duh.
"Taken," she wrote in the caption. "With all my heart and soul."
I'm not crying, you're crying.
So when will these two lovebirds be making the trip down the aisle to exchange vows?
"The wedding is coming soon and they really want to blend wedding traditions from both of their cultures that are important to them," a source recently told Us Weekly. "Priyanka is having a really good time planning the wedding because it's a mix of Indian and American styles and customs."
Sounds amazing! Wonder what a girl's got to do to score an invite...?