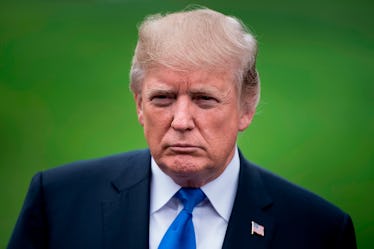 Twitter CEO Responds To #WomenBoycottTwitter By Promising New Rules That Would Basically Instantly Suspend Trump
BRENDAN SMIALOWSKI/AFP/Getty Images
There's about to be some new rules enforced on Twitter — and our president should be paying *extra* close attention. After actress Rose McGowan's temporary suspension from Twitter sparked a boycott of the social media platform, Twitter CEO Jack Dorsey claimed that significant changes were about to be made to the site. New Twitter rules will clamp down hard on violent, sexist, and racist statements... so, once again, you listening, Donald Trump?
On Oct. 12, McGowan, who has been actively condemning Harvey Weinstein online, was temporarily suspended from Twitter. The site claimed that McGowan had violated its terms of service, but many Twitter users believed that the Charmed star was being silenced for unapologetically speaking her mind against sexual abuse. Users also noted a glaring double standard at play. Many, many accounts featuring hate speech, threatening comments, and general abuse have not been pulled down, and yet McGowan swiftly got the boot.
The hashtag #WomenBoycottTwitter began trending, and men and women, including Chrissy Teigen, Alyssa Milano, and Mark Ruffalo, logged off the site on Oct. 13 for a full day of protest. Teigen sent out a rallying cry on Twitter, writing,
Ladies. Let's do this. #WomenBoycottTwitter. Not because of hate but because I love this platform and know it can be better. Tomorrow. No secret timeline checking, no tweets, no clicking the bluebird square. They need to see we matter.
The boycott was definitely not lost on the Twitter team. In a series of tweets, Dorsey explained how the social media platform aims to do better in the future.
The company has struggled to cope with social media abuse for some time. Former Twitter CEO Dick Costolo wrote in a 2015 internal memo obtained by The Verge,
We suck at dealing with abuse and trolls on the platform and we've sucked at it for years. It's no secret and the rest of the world talks about it every day. We lose core user after core user by not addressing simple trolling issues that they face every day.
I'm frankly ashamed of how poorly we've dealt with this issue during my tenure as CEO. It's absurd. There's no excuse for it. I take full responsibility for not being more aggressive on this front. It's nobody else's fault but mine, and it's embarrassing.
It's still way too soon to guess what sort of changes these new rules will have on Twitter, but it's definitely not too soon to guess how they will effect Trump, aka our Tweeter-in-Chief.
Trump loves Twitter. Like, a lot. Sometimes it seems like he treats Twitter like his own personal diary, spewing pretty much every thought that comes into his head. Unfortunately, that has gotten him into several spots of trouble — and could possibly be his Twitter undoing.
Remember when he tweeted out edited video footage showing him physically attacking a CNN logo?
Can we safely say that that is a "tweet that glorifies violence" right there?
The president also retweeted manipulated footage of himself swinging a golf club and hitting Hillary Clinton.
Then there's Trump's tweets hinting at war with North Korea, which doesn't directly glorify violence, but does have the strong possibility of encouraging it. Take, for example, this tweet he wrote about Kim Jong-un:
These words were taken very seriously by the North Korean government, and deemed a declaration of war.
"For the past couple of days, we had earnestly hoped that the war of words between North Korea and the U.S. would not lead to action," North Korean Foreign Minister Ri Yong Ho said, per NPR. "However, Trump had ultimately declared war again last weekend, by saying regarding our leadership, that he will make it unable to last longer."
So, basically, we're going to need Dorsey to change those Twitter rules ASAP. Please and thank you.