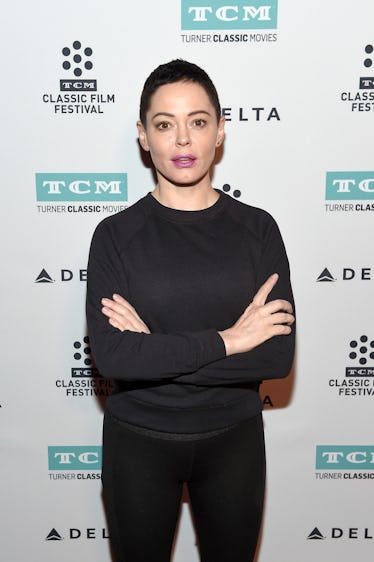 Rose McGowan's Twitter Account Was Suspended After She Spoke Up On Weinstein Allegations
Matt Winkelmeyer/Getty Images Entertainment/Getty Images
Overnight on Thursday, Oct. 12, Twitter suspended Rose McGowan's Twitter account. The Charmed actress was featured in The New York Times'' bombshell report last week about allegations of sexual misconduct by Hollywood super-producer Harvey Weinstein, and she has been one of the louder voices in the outcry following the multiple reports against Weinstein. McGowan has been using Twitter to call out systemic issues in the film industry — and to call out specific people for their alleged complicity in allowing the alleged horrific behavior to continue for so long.
Early Thursday, McGowan posted on Instagram about her Twitter account, saying,
TWITTER HAS SUSPENDED ME. THERE ARE POWERFUL FORCES AT WORK. BE MY VOICE. #ROSEARMY #whywomendontreport
The Instagram post included a screenshot of a message from Twitter saying they "have determined that this account violated the Twitter Rules." Under the suspension, McGowan could look at Twitter, but couldn't send tweets, retweets, or likes for 12 hours.
According to the Times, Weinstein reached a $100,000 settlement with McGowan in 1997, when she was 23 years old. The settlement was "not to be construed as an admission" of guilty by Weinstein, according to the document, the Times reported, and it was just to "avoid litigation and buy peace." In the last week, 29 women have come forward with allegations of sexual misconduct against Weinstein.
Of the multiple accusations, Sallie Hofmeister, Weinstein's spokeswoman, said in a statement that "any allegations of non-consensual sex are unequivocally denied by Mr. Weinstein" and that "with respect to any women who have made allegations on the record, Mr. Weinstein believes that all of these relationships were consensual."
McGowan had been using Twitter to call out Hollywood following the release of these accusations.
One of her tweets specifically called out Bob Weinstein, Harvey's brother, claiming he knew about the alleged instance of misconduct:
Bob Weinstein said in a statement to TMZ that his brother is "obviously a very sick man" and that "his remorse and apologies to the victims of his abuse are hollow." Bob Weinstein added that he "urged [Harvey] to seek immediate professional help" but Harvey "has proven himself to be a world class liar and now rather than seeking help he is looking to blame others."
Meanwhile, after Ben Affleck put out a statement against Weinstein, McGowan tweeted, simply,
Ben Affleck f*ck off
Although his statement said he did not know about the accusations against Weinstein, McGowan indicated in a tweet that he knew what was reportedly going on:
Elite Daily reached out to Affleck for comment on this, but did not hear back at time of publication.
After the allegations were made public last week, Weinstein was fired by the company he founded along with his brother, Bob, which produced films such as Django Unchained, The King's Speech, Silver Linings Playbook, and Lion. Also this past week, three members of the board resigned. The board of representatives said in a statement, according to Deadline, that they were "shocked and dismayed by the recently emerged allegations of extreme sexual misconduct and sexual assault by Harvey Weinstein." This sentiment included Bob Weinstein. The Weinstein Co. statement added,
Any suggestion that the Board had knowledge of this conduct is false.
McGowan was sharing an anonymously-created petition to dissolve the board, which asked,
If you believe The Weinstein Company should completely dissolve after 30 years of sexual abuse against innocent women please join me in signing this petition to honor the victims and their bravery.
As of Thursday afternoon, the petition has over 14,000 signatures, surpassing its goal of 10,000. McGowan's tweets have been using the hashtags #dissolvetheboard and #rosearmy for her supporters.
After McGowan's account was suspended, people were outraged and called out Twitter.
The outrage was especially loud considering that women have been shouting at Twitter for years for letting harassers keep accounts and for allowing white supremacist Richard Spencer and President Donald Trump, who has been essentially threatening nuclear war via tweets, on the platform.
Following the outcry, Twitter took to, well, Twitter, to explain why they suspended McGowan's account.
Twitter wrote on their "Safety" account early Thursday afternoon that McGowan's "account was temporarily locked because one of her Tweets included a private phone number, which violates our Terms of Service."
Twitter removed the tweet with the phone number, but according to the Washington Post, McGowan had tweeted a screenshot of an email that she said was "anonymously sent to me." The email was about setting up a meeting with Bob (assumedly, Weinstein) at a hotel. That screenshot had a phone number. McGowan claimed in that tweet that "they all knew."
The social media platform went on to say,
Twitter is proud to empower and support the voices on our platform, especially those that speak truth to power. We stand with the brave women and men who use Twitter to share their stories, and will work hard every day to improve our processes to protect those voices.
Based on the unofficial ratio rule that if a tweet gets more replies than likes or retweets, it's a bad tweet, Twitter's explanation was a bad tweet. About an hour after it was posted, it has 280 retweets, 450 likes... and 740 replies, a vast majority of which were on McGowan's side.