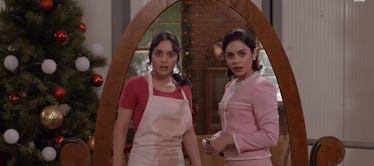 Netflix's 'The Princess Switch' Is Basically A Christmas Version Of The 'Parent Trap'
Netflix
Vanessa Hudgens' roots as an actress may trace back to Disney Channel, but who would've thought she'd bless us with a Christmas version of The Parent Trap one day? While the premise of her upcoming Netflix Christmas movie doesn't feature long-lost sisters, a story of two identical strangers pulling a switcheroo is in store for us this holiday season. Netflix's The Princess Switch trailer with Vanessa Hudgens stars the actress in dual roles, and this double dose of lighthearted trickery and romance is just what we need to ring in the holidays.
Netflix kicked off its packed holiday movie lineup on Nov. 2 when The Holiday Calendar began streaming. Checking off the list of Christmas movie must-haves that Netflix must have swiped from the Hallmark Channel, The Holiday Calendar filled the necessary nod to both the metaphorical and literal magic of Christmas. When it comes to Nov. 16's The Princess Switch, anyone wanting innocent romance and shenanigans leading up to a crucial Christmas deadline is in luck.
In the film, Hudgens plays both Stacy, a Chicago baker, and Margaret, the Duchess of Montenaro. After being invited to compete in a Christmas baking competition, Stacy and her co-worker travel to the European country Belgravia for the holidays. Excited but longing for love, Stacy runs into the Duchess on the competition set and — surprise! — they're mirror images of each other.
While the two women don't chat about any ripped photos they have of their absentee parents, Margaret reveals that she's due to marry Prince Edward on Christmas Day. She asks to switch places with Stacy for two days so she knows what being normal is like before becoming a princess. Their switch involves some rocky adjustments to each other's world, but amidst these blunders, Stacy falls for Margaret's fiancé and Margaret develops feelings for Stacy's friend. Welp, Christmas just got complicated.
Clearly meant as a riff on The Prince and the Pauper, The Princess Switch already has an ingredient that proved successful for last year's Netflix hit, A Christmas Prince. Both Belgravia and A Christmas Prince's Aldovia are fictional, snow-tinted kingdoms with besuited princes preparing to rule. Seeing as it also has Christmas cookies and Hudgens pulling a classic Lindsay Lohan, there isn't much stopping me from watching The Princess Switch ASAP.
No one really expects these kind of movies to be great cinematic art, but nowadays, never underestimate the power of something that just makes you smile. People on Twitter are already anticipating the feel-good vibes The Princess Switch seems destined to deliver. Isn't that what Christmas entertainment is all about?
Following the launch of The Princess Switch, you can catch Kurt Russell as Santa Claus in Nov. 22's The Christmas Chronicles. Before December and the true Christmas season begins, the sequel A Christmas Prince: The Royal Wedding will debut on Nov. 30. If producing a handful of holiday movies each year is Netflix's new trend, I'm sure plenty of users are totally on board with the idea.
The Princess Switch begins streaming on Netflix on Friday, Nov. 16.