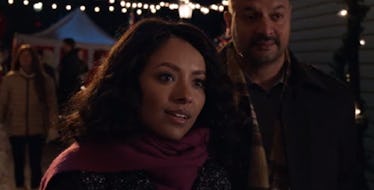 Here's What Christmas Enthusiasts Should Know About 'The Holiday Calendar'
Netflix
The magic of the Christmas season has arrived on Netflix, and in the case of its latest festive film The Holiday Calendar, it is quite literally a magical time of year. Christmas enthusiasts are already loving the romantic comedy's spellbinding twist, and although it ended on a sweet note, fans are ready for more. Will The Holiday Calendar get a sequel? Well, anything can happen at Christmastime, but we'll have to wait and see if Santa Clause will grant this wish for us.
This post contains spoilers for The Holiday Calendar. Premiering on Netflix on Nov. 2, The Holiday Calendar stars Kat Graham as Abby, a photographer struggling to leave her simple job taking family portraits and begin chasing down her more creative aspirations. As the Christmas season begins, her grandfather (This Is Us's Ron Cephas Jones) gives her an antique Advent calendar that belonged to her late grandmother. Abby soon discovers that the calendar's daily tokens symbolize what will happen to her that day, and she begins to rely on the calendar's magic for hints of what's to come.
Ultimately, the calendar's miniature gifts of Christmas staples, such as a nutcracker, boots, and a tree, teach Abby that what she needed most was always right under her nose. By the time the credits roll, she learns that her photography talent is legitimate and that her lifelong best friend Josh (Quincy Brown) was always her perfect match.
After Abby and Josh declared their love for each other at the end of The Holiday Calendar, the film jumped ahead a year to the following Christmas Day. The epilogue showed Abby and Josh's photography studio, The Magic Calendar, thriving, and although the scene briefly teased the two having an announcement, their big reveal only turned out to be a Christmas greeting for everyone. So I take it there was no epic holiday marriage proposal?
The Holiday Calendar flashing forward in time rather than ending the story during the new couple's snowy first kiss is definitely a significant choice, and it could be interpreted several ways. On one hand, Netflix providing a short but happy epilogue seems like an attempt to finalize the story. Abby and Josh are great together, so why mess with their happiness in a future film? But on the other hand, the scene was vague enough for Netflix to easily set up an entirely new storyline involving the pair's studio or their relationship.
It's obviously too soon to predict the chance of a sequel, and if you look back at Netflix's record with followup films, the streaming service definitely takes its time with these decisions. Although last November's A Christmas Prince was an instant success, Netflix waited until Prince Harry and Meghan Markle's May 2018 wedding to announce the upcoming A Christmas Prince: The Royal Wedding (out Nov. 30). Even after the unprecedented amount of universal love for this summer's To All the Boys I've Loved Before, Netflix still hasn't confirmed plans to adapt author Jenny Han's succeeding books. Based on these examples, we likely have to wait awhile for the news of whether or not The Holiday Calendar will get a sequel.
The Holiday Calendar is currently streaming on Netflix.