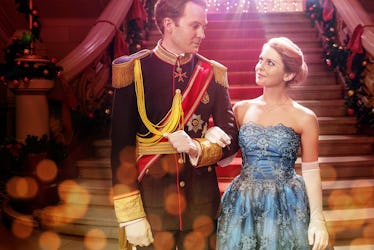 The 'A Christmas Prince' Sequel Premieres Even Sooner Than You Think
Netflix
Polish those tiaras ASAP! Netflix is following through on its plans to release a sequel to the unexpected holiday hit A Christmas Prince. Arriving soon after two high-profile royal weddings, A Christmas Prince: The Royal Wedding will top off a year that fans of the royals won't easily forget. The A Christmas Prince sequel premiere date is sooner than you may think, so dig up your fascinators from the last wedding and settle in for another sweet Christmas tale. Do you think we can expect Prince Harry and Meghan Markle to make a cameo at Amber and Prince Richard's wedding?
According to Entertainment Weekly, A Christmas Prince: The Royal Wedding will launch on Netflix on Nov. 30. In last year's A Christmas Prince, American journalist Amber (Rose McIver) posed as a palace tutor to seek the truth behind rumors that Prince Richard of Aldovia (Ben Lamb) would abdicate before his Christmas Eve coronation. As her attempts to pass as Richard's sister's teacher continued, Amber fell for the prince, eventually helping him foil an evil royal cousin's plan to steal the throne from Richard. The pair got engaged at the end of the film, easily setting up the possibility for a sequel just in time for this year's holiday season.
On the day of the Duke and Duchess of Sussex's May wedding earlier this year, Netflix released a teaser clip to officially announce the sequel. In the video, Amber, Richard, Princess Emily, and Queen Helena watch Harry and Meghan's ceremony, which sends Amber into a frenzy about her own wedding plans. From joking about Princess Beatrice of York's taste for eccentric hats to considering the chance of becoming a Gary Janetti meme, the clip was full of references that could make any monarchist's heart sing.
EW also has a first look photo from the new film, showing Amber on her computer with a festive Christmas tree in the background. Just seeing her match her seasonal red cardigan with her tea cup is enough for me to have a Christmas Prince marathon as soon as the sequel debuts. Tis the season, indeed!
Taking place a year after the events of the first film, A Christmas Prince: The Royal Wedding follows Amber and Richard in the last chunk of time before their Christmas nuptials. Amber starts to doubt whether she's ready to become Aldovia's queen, but she and Richard are soon caught up in a "political crisis" that threatens the future of their kingdom. I'm sure this power couple will work out any issues before their big day. Plus, we'll need a happy ending if Netflix takes the logical next step of A Christmas Prince: The Royal Baby, right?
Once you've watched the new movie a few times (or for 18 consecutive days), Netflix has got your back for more holiday fluffiness. In a play on The Prince and the Pauper, the service's Nov. 16 release The Princess Switch stars Vanessa Hudgens as a duchess who switches places with an ordinary woman just a week before Christmas. On Nov. 2, Netflix will also launch The Holiday Calendar, which follows a photographer who comes across an ancient Advent calendar that seems to predict the future. It looks like my November Netflix binges are already set in stone.
Although the actual royal family has certainly kept busy entertaining us in the past few weeks, here's to seeing more of our favorite fictional royalty soon. A Christmas Prince: The Royal Wedding premieres on Netflix on Friday, Nov. 30.