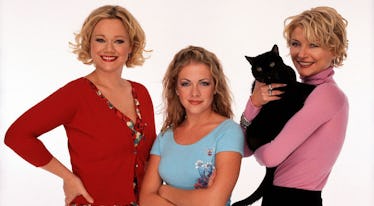 The New 'Sabrina' Series Has Its Aunt Hilda & Aunt Zelda & They're Perfect
ABC
You can't have a Sabrina series without her aunts, and now the new Netflix series all about the teenage witch has found the two women that will train Sabrina Spellman in all her witchy ways. Netflix's Sabrina has cast its Aunt Hilda and Aunt Zelda, the two women who will raise Sabrina Spellman as well as teach her to hone her magical powers.
Hilda and Zelda Spellman were most famously portrayed by Carline Rhea and Beth Broderick, respectively, in the popular ABC sitcom Sabrina the Teenage Witch from 1996 to 2003. Aunt Hilda was the fun-loving and impulsive aunt, who would frequently encourage Sabrina in irresponsible uses of magic, whereas Aunt Zelda served as the voice of reason and authoritarian in the Spellman house, laying down the importance of Sabrina's studies in order to hone her magical abilities.
But we already know that the upcoming Sabrina series will be much darker than the ABC sitcom, and that goes for Aunt Hilda and Zelda's characters as well. Based on the Chilling Adventures of Sabrina comic series, the new show is described as a horror-infused coming-of-age story in which Sabrina will have to use her dual nature as both a mortal and a witch to combat evil forces that threaten humanity. Hilda and Zelda will still have their basic personality traits of the ABC sitcom, but with a much darker bent to them.
Miranda Otto has been cast to play Aunt Zelda, Sabrina's stern, disciplinarian aunt. In the new series, Aunt Zelda is also a devout worshipper of the Dark Lord. Miranda Otto is best known for playing the warrior Éowyn in the Lord of the Rings saga, and for her turn as CIA chief Allison Carr on the series Homeland.
Serving as the goofier side to Miranda Otto's strict Aunt Zelda, actress Lucy Davis is joining Netflix's Sabrina series as Aunt Hilda. In the new series, Aunt Hilda will still be Sabrina's warmer and more fun-loving aunt, but the adaptation warns that Hilda also has a wickedness in her that comes out in her expertise at brewing various magical potions. Lucy Davis is best known for originating the role of Dawn Tinsley in the British version of The Office, and more recently for playing Etta Candy in Wonder Woman.
Both Miranda Otto and Lucy Davis join Keirnan Shipka in the new series, who has already been cast to lead as Sabrina Spellman. The new cast is rounded out by Jaz Sinclair (Paper Towns) as Sabrina's high school classmate Rosalind Walker, British actor Chance Perdomo as Sabrina's cousin Ambrose Spellman, and Michelle Gomez (Doctor Who) as the powerful villain Madam Satan, who takes on the appearance of Sabrina's favorite teacher Mary Wardell. Showrunner (and author of the source comic series) Roberto Aguirre-Sacasa also recently revealed the new black cat that will portray the Spellman family's familiar Salem Saberhagen.
Based on Archie Comics, the new Sabrina series will be a companion to the currently airing CW series Riverdale, sharing much of the same creative and production team. However, despite much fan speculation, Riverdale star Lili Reinhart recently said that she does not believe Sabrina and Riverdale will cross over between each other.
Netflix has picked up the Chilling Adventures of Sabrina adaptation for two seasons, which are currently beginning production. Both seasons will consist of ten episodes each. Season 1 is set to debut either at the end of this year or the beginning of 2019, but it will most likely drop on Netflix this fall in order to premiere alongside Riverdale's upcoming third season. Keep your eyes on your Netflix queue later this year for the new Sabrina series.