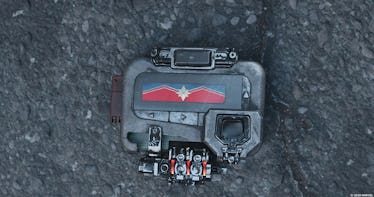 Netflix Won't Stream Marvel Movies Anymore, Starting With 'Captain Marvel'
Marvel
The end is nigh. Back in 2012, Netflix and Disney made a huge blockbuster deal where Disney would lease exclusive first streaming rights to all their movies starting in September 2016 to Netflix. This was not long after The Avengers had the biggest box office opening in history and the Lucasfilm deal closed, promising Disney's content was about to become very valuable. It was also a year before Netflix released House of Cards, so it was still 100 percent reliant on content from others. But times have changed. Starting in 2019, Netflix won't stream Marvel movies or any Disney content going forward.
When the deal went into effect, it began with Finding Dory, the Pixar hit of 2016. The first Marvel film to arrive was Captain America: Civil War not long after, and then Rogue One in the Star Wars universe. Rumor was exclusivity for these hits was costing Netflix upwards of $300 million a year.
In 2012, with threats of a Redbox streaming service and HBO eyeing the idea of a standalone network, such a deal made a lot of sense for Netflix. And it seemed a promising partnership, bringing Disney content directly to the consumer, benefiting both companies. After all, Netflix needed material to fill its service and Disney had no way to stream things to consumers directly.
But four years later, Netflix's money is now focused on creating its own original content. This doesn't mean films like Thor: Ragnarok and Star Wars: The Last Jedi aren't a huge boon to Netflix's service, but it's only benefitting in one direction. Netflix's focus on original content no longer makes it a benign service helping Disney by its streaming content to consumers, but a rival competitor. Putting the Marvel films and Star Wars on Netflix is assisting an opponent.
Disney can't buy out Netflix, so it's going to do the other thing it does best: creating its own proprietary streaming service. Currently nicknamed "Disneyflix," the service is planning to launch in the next year or so with a mix of Disney movies, including Marvel, Pixar and Star Wars films, Disney's back catalog all the way to 1939, Disney TV shows from all the networks it owns, including ABC and, of course, Disney original content.
Unlike Netflix, which is racing to fill a landscape once filled with content made by others, Disney already has enough material to fill a streaming service. More importantly, it has content people will sign up for. But this means cutting off the Netflix deal less than three years after it finally began.
So starting in 2019, all movies owned by Disney will stop going to Netflix, beginning with Captain Marvel in March. Star Wars: Episode IX won't go there either, and neither will Toy Story 4 or the live-action The Lion King film. The movies and TV shows on Netflix will start running out their contracts and leaving. Already, Finding Dory exited the service at the beginning of this month, heralding the beginning of the end. The 2012 partnership between Netflix and Disney is over.