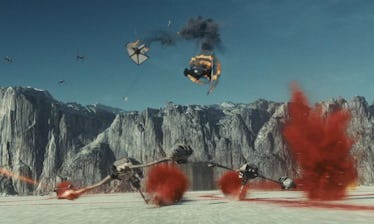 The First Details On The 'Star Wars' TV Series Prove It's Going Rival The Big Screen
Lucasfilm
Everyone knows the next Star Wars film will be the still untitled Episode IX. The more hardcore fans are aware there are two trilogies greenlit for development after Episode IX is over — one from The Last Jedi director Rian Johnson and a second from Game of Thrones showrunners David Benioff and Dan Weiss. But there's a third Star Wars project in development beyond these, a television show which will be a foundation show for Disney's coming streaming service. This week, new Star Wars TV series details started coming out which suggest Lucasfilm plans to go big on the small screen.
The coming show will be directed by Jon Favreau, who is an actor-turned-director, known for his work behind the camera on such films as Elf plus the first two Iron Man films. He's a man who is used to painting his visions on a large scale and large budget canvas.
A report in The New York Times this week looks into Disney's upcoming "direct-to-consumer platform," which is currently nicknamed "Disneyflix" until the Mouse House announces the actual name of the service. It turns out just because Favreau is working on a show planned for the smaller screen doesn't mean he intends to work with a smaller budget.
According to The New York Times:
A live-action Star Wars series coming to the platform from Jon Favreau, the director of films like Iron Man and The Jungle Book, is expected to cost roughly $100 million for 10 episodes.
The simple math breaks this down to $10 million per episode. In comparison, Game of Thrones' didn't reach this level of budget per episode until Season 6, which included the Battle of the Bastards episode, plus the blowing up of a significant portion of King's Landing. Their final season, with only six episodes, all of which are expected to be supersized and on par with a cinematic experience on the small screen, are $15 million per episode.
Star Wars plans to start out at $10 million for their first season.
When asked about the new series, Favreau responded:
Star Wars is a big world, and Disney's new streaming service affords a wonderful opportunity to tell stories that stretch out over multiple chapters. Marketing is about telling a story, and his background in that area allows us to collaborate and create new content.
This as yet untitled Star Wars series will be the most expensive of the shows coming to the streaming service. The New York Times notes the rest are slightly more down-to-earth:
Most series will cost $25 million to $35 million. Already in the works are episodic spinoffs of Disney franchises like High School Musical and Monsters Inc. The Muppets will probably be getting a new series. There will be Marvel-themed shows. And Disney recently announced that a new season of the animated series Star Wars: The Clone Wars would head to the service.
Disney's new streaming service is expected to announce a debut date in 2019, as they begin to withdraw their content in earnest from Netflix in preparation for the launch. A premiere date for the new Star Wars series is expected to follow soon after.