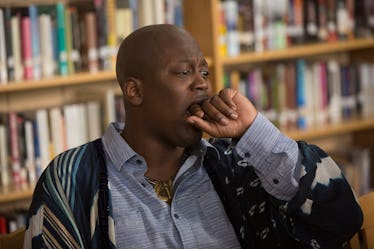 New Statistics Prove Plenty Of Americans Binge Netflix At Work, So You're Not Alone
Eric Liebowitz/Netflix
You've heard of #NetflixAndChill, but maybe the more appropriate hashtag and ubiquitous meme might be #NetflixAndWork. According to a Netflix study conducted by SurveyMonkey released on Tuesday, Nov. 14, 67 percent of Americans are watching the streaming service outside of the comfort of their own homes. And to top it all off, 37 percent admit to binging at work. So, you're not alone if you've ever taken that lunch break, coffee break, or self-imposed "just because" break to catch up on Stranger Things. Looks like sometimes a really good show just can't wait.
These new statistics on public Netflix viewing habits basically reveal we pretty much watch when we want to. Even if that includes taking our screens into the bathroom. Yes, it's true. 12 percent confessed they watched in public restrooms. We, um, get it? Orange is the New Black is extremely riveting. It looks like Netflix-on-the-go is taking on a whole new meaning now. SurveyMonkey's survey based on 37,056 responses definitely yields some enlightening info about the way we view. And it's not just the bathroom-based data that got our attention. Apparently, 22 percent of people said they have cried while watching in public. There, there. Let it out, people.
Some other interesting tidbits? Thirty-five percent of U.S. respondents say a stranger has interrupted them to start a convo, 44 percent say they've noticed someone snooping over their shoulder trying to catch a peek, 27 percent say they watch while waiting in line, and 26 percent say they've stopped watching when an embarrassing scene comes on. It happens.
"Netflixing In Public has become a social norm with 60% of Americans watching more movies and shows in public this year than last," Eddy Wu, Netflix director of production innovation, said in a statement. "The introduction of the Netflix download feature has given users the freedom to watch their favorite movies and shows wherever they want, like during their commute or waiting in line, and for some... that means at work or even in a public restroom."
Another very cool thing? Netflixers own their viewing preferences. Only 22 percent said they were embarrassed by what they were watching. You do you, guys. No judgment here. Guilty pleasures be gone.
But be vigilant, folks. Eleven percent have had an unlucky brush with a spoiler due to someone else's public binging activity.
I personally saw someone watching the final episode of Stranger Things Season 2 on a plane the weekend it was released and had to divert my eyes.
Aaaaand it's probably going to be even harder to put away your Netflix when you're out and about as time goes on. Marvel's The Punisher hits the streaming service on Nov. 17 and we can only imagine what a bingeable hit that might be. Godless will be released on Nov. 22 and Season 1 of Spike Lee's She's Gotta Have It TV adaptation is ready to roll come Thanksgiving day. Oh, and don't forget The Crown. Season 2 of the critically acclaimed period drama is set for a Dec. 8 return, so perhaps you can plan accordingly for what you might watch throughout all that pesky holiday travel time. Good news is now you know you probably won't be the only one watching on your phone while you wait to board the plane. Ah, the power of technology and the changing definition of a communal, yet individual, experience.
Netflix also just announced recent fave American Vandal will be getting a second season. And it's not like Stranger Things isn't coming back at some point. Oh, the options. At least you can take comfort in knowing that an occasional not-so-private binge sesh isn't out of the realm of possibility or even general acceptance. Happy (public) watching, everyone.