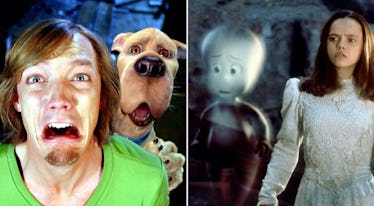 Your 10-Year-Old Self Will Be Screaming Over Everything Coming To Netflix In November
Warner Bros., Universal Pictures
Netflix has a ton of treats for your inner child this coming month. The streaming service just announced the newest additions to it will be adding to its library in November, and includes a bunch of spooky, childhood favorites such as Casper, Men in Black, and Scooby-Doo 2: Monsters Unleashed. I mean, Halloween will already be over, but I guess Netflix wants to continue treating your monster-loving, childlike side throughout November. We've got the low-down on all the movies and shows coming to Netflix this November right here.
Along with those spooky kids' movies you grew up with, Netflix will also be adding some other heartwarming throwbacks, such as Field of Dreams, The Pursuit of Happyness, and Charlotte's Web. And to keep you in the Halloween spirit throughout November, Netflix is also adding some popular horror movies like Silent Hill, Oculus, and the spoofy Scary Movie. If you're more interested in recent releases, Netflix will also begin streaming movies from the past couple of years next month, including The Boss Baby and Chappie. And halfway through the month, Netflix premieres it's highly anticipated Marvel series The Punisher.
But sadly, all this new stuff comes at a price. In order to make room for these new movies and shows, Netflix will stop streaming a number of titles in November. The most notable of these soon-to-be-discontinued movies and shows include the following: The Matrix trilogy, Twilight, How I Met Your Mother, Hannah Montana: The Movie, Heavyweights, and Sky High.
Check out every single movie and series Netflix will add throughout the month of November below:
Coming Nov. 1:
42
Casper
Chappie
Charlotte's Web (2006)
Field of Dreams
Men in Black
Michael Clayton
Oculus
Scary Movie
Silent Hill
Stranger: Season 1
The Bittersweet
The Pursuit of Happyness
The Reader
The Whole Nine Yards
To Rome with Love
Under Arrest: Season 7
Undercover Grandpa
Where the Day Takes You
Coming Nov. 2:
All About the Money
It's Not Yet Dark Ten Percent (aka Call My Agent!): Season 2 — NETFLIX ORIGINAL
Coming Nov. 3:
Alias Grace — NETFLIX ORIGINAL
Eventual Salvation
The Big Family Cooking Showdown: Season 1 — NETFLIX ORIGINAL
Coming Nov. 4:
Coming Nov. 5:
Coming Nov. 6:
Coming Nov. 7:
Dizzy & Bop's Big Adventure: The Great Music Caper
Fate/Apocrypha: Part 1 — NETFLIX ORIGINAL
Killing Ground
P. King Duckling: Season 1
Project Mc²: Part 6 — NETFLIX ORIGINAL
The Journey Is the Destination
Coming Nov. 10:
Blazing Transfer Students: Season 1 — NETFLIX ORIGINAL
Dinotrux Supercharged: Season 1 — NETFLIX ORIGINAL
Glitter Force Doki Doki: Season 2 — NETFLIX ORIGINAL
Lady Dynamite: Season 2 — NETFLIX ORIGINAL
Mea Culpa — NETFLIX ORIGINAL
The Killer — NETFLIX ORIGINAL
Coming Nov. 12:
Coming Nov. 13:
Chasing Trane: The John Coltrane Documentary
Scooby-Doo 2: Monsters Unleashed
Coming Nov. 14:
DeRay Davis: How To Act Black — NETFLIX ORIGINAL
Hickok
Coming Nov. 15:
Lockup: State Prisons: Collection 1
Coming Nov. 16:
Coming Nov. 17:
A Christmas Prince — NETFLIX ORIGINAL
Jim & Andy: The Great Beyond - Featuring a Very Special, Contractually Obligated Mention of Tony Clifton — NETFLIX ORIGINAL
Longmire: Final Season — NETFLIX ORIGINAL
Luna Petunia: Season 3 — NETFLIX ORIGINAL
Marvel's The Punisher — NETFLIX ORIGINAL
Mudbound — NETFLIX ORIGINAL
Red, White, Black, Blue Odyssey
Santa Claws Shot in the Dark: Season 1 — NETFLIX ORIGINAL
Spirit: Riding Free: Season 3 — NETFLIX ORIGINAL
Stretch Armstrong & the Flex Fighters: Season 1 — NETFLIX ORIGINAL
Coming Nov. 20:
Coming Nov. 21:
Beat Bugs: All Together Now — NETFLIX ORIGINAL
Brian Regan: Nunchucks and Flamethrowers — NETFLIX ORIGINAL
Saving Capitalism — NETFLIX ORIGINAL
The Case for Christ
Coming Nov. 22:
Cherry Pop
Godless — NETFLIX ORIGINAL
The Boss Baby
Tracers
Coming Nov. 23:
Deep She's Gotta Have It: Season 1 — NETFLIX ORIGINAL
Coming Nov. 24:
Bushwick
Cuba and the Cameraman — NETFLIX ORIGINAL
Frontier: Season 2 — NETFLIX ORIGINAL
The Many Faces of Ito: Season 1 — NETFLIX ORIGINAL
Trailer Park Boys: Out of the Park: USA: Season 1 — NETFLIX ORIGINAL
Coming Nov. 27:
Broadchurch: Season 3
Darkness Rising
My Little Pony: Friendship Is Magic: Season 7 Part 2
Coming Nov. 28:
Glitch: Season 2 — NETFLIX ORIGINAL
Good Morning Call: Season 2 — NETFLIX ORIGINAL
The Queen Of Spain
Coming Nov. 29:
Guerra De Idolos: Season 1
Coming Nov. 30: