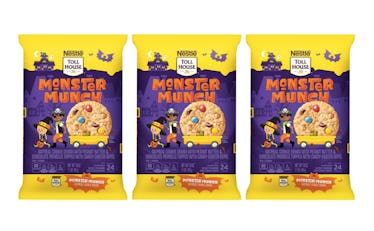 Halloween Cookie Dough Exists That Actually Doesn't Taste Like Pumpkins (Yay!)
It's obvious that pumpkin is the flavor of fall, and I'm not complaining. The second September comes rolling around, pumpkin-flavored goodies hit grocery store shelves in celebration of the spooky season. There's pumpkin-flavored coffee, pumpkin-flavored ice cream, pumpkin-flavored cake — you name it. Pumpkin. Is. Everywhere. But what if you don't like pumpkin-flavored snacks? I'm sure there are Halloween-lovin' folks out there who'd rather eat something else, and Toll House has their backs. In fact, Nestle Toll House's Monster Munch cookie dough doesn't taste like pumpkins, but it's still festive AF.
I know, I know: There's a Halloween snack that doesn't taste like pumpkin spice?! Is that even allowed? Yes, it is — and yes, it's delicious. In fact, you'll probably end up snacking on Monster Munch cookie dough on Halloween night after you've devoured all of your candy (or maybe that'll just be me).
Anyway, let's get into details about the dough's flavor. I've already established that this treat does not taste like a pumpkin, which is probably good news for those of you who don't like pumpkin-flavored food. Instead, the cookie dough is oatmeal-flavored. However, it's not your typical oatmeal cookie. No, no: This dough has some "tricks" and "treats" that you'll never expect.
For starters, there are no raisons hidden in the Monster Munch oatmeal cookie dough, per Delish (phew). Instead, the dough is packed with chocolate and peanut butter morsels "topped with candy-coated gems," according to the snack's packaging. In other words, you'll be getting your candy fix when you bite into one of these cookies on Halloween night. Even though I'm usually partial to pumpkin-flavored snacks, I'm stoked to give these a try.
Apparently, other Halloween snackers are just as excited. One Instagram user, @snackstalker, posted a photo of the cookie dough with a caption that'll make you hungry. It says, "Nestle tollhouse has dropped a monster munch cookie dough on us and it sounds awesome! Oatmeal cookie dough with peanut butter & chocolate morsels topped with candy-coated gems!" I'm just as thrilled as you are, @snackstalker. Bring on the dough.
Now, you're probably wondering where you can buy Toll House's Monster Munch cookie dough in time for Halloween festivities. According to Delish, it's available at grocery stores — so keep your eyes peeled during your next food shopping trip. Plus, there's a link for the product on Walmart's website... but the dough appears to be unavailable for pickup and online orders at the time of publication. Sigh.
If you're having trouble getting your hands on Toll House's latest flavor, rest assured there are other Halloween snacks out there that don't taste like pumpkins. For example, Disney World is selling candy corn-flavored ice cream and milkshakes, which are perfect for anyone with an fall sweet tooth. In fact, Disney World is offering a handful of Halloween-inspired treats this year, and a majority of them don't taste like pumpkin spice. Go figure.
With that being said, those of you who aren't into pumpkin-flavored goodies are in luck — because it's not too hard to get a Halloween treat that doesn't taste like a PSL. I, however, will be devouring pumpkin everything until Christmas comes.