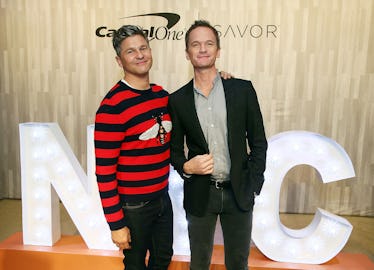 Neil Patrick Harris & David Burtka Reveal Their Best Party-Planning Tips For The Holidays — EXCLUSIVE
Astrid Stawiarz/Getty Images for NYCWFF
People say the holiday season is the most wonderful time of the year, but it can also be the most stressful. Sure, it's fun to go to a Friendsgiving dinner, a festive holiday party, or a New Year's Eve extravaganza, but someone has to host all of those gatherings, and it can be a lot of work. Entertaining friends and family at your home definitely feels like a mark of adulthood, especially when you'd rather hang at someone's apartment than brace the chilly streets to get to a restaurant. Luckily, Neil Patrick Harris and David Burtka's party planning tips are perfect for anyone who's brand new to this.
Ahead of hosting the Broadway Tastes Capital One Cardholder Exclusive event at the New York City Wine & Food Festival, the superstar couple shared their passion for dining, entertainment, and spending time with friends and family. It's no wonder the two partnered with the launch of the new Capital One Savor Rewards card, which gives you cash back on your favorite food and entertainment related activities, whether it's a meal at your favorite restaurant, or even a big concert you've been dying to go to.
The famous duo, however, isn't always out on the town — rather, they love putting on events of their own. In an exclusive interview with Elite Daily, Harris and Burtka say that when they entertain, they use their different strengths to their advantage. Burtka, a chef — whose first cookbook Life Is a Party hits shelves in spring 2019 — says he usually handles the "backstage stuff," while Harris acts as the "ringmaster."
In fact, the couple tells me that balancing your strengths is one of their go-to tips for anyone who's new to cooking or hosting. Burtka says he touches on this in his cookbook, and that he really made sure to keep millennials in mind as he was writing. After all, when you're in your 20s, hosting can feel more like an overwhelming chore than a fun experience. While some people may feel like they have to get everything prepared in advance, Burtka says hosting a party really doesn't have to be that stressful.
"You don't have to be intimidated to do the whole thing by yourself," he tells Elite Daily. "Get together with friends, put a party together, learn how to get into the kitchen and delegate. Have someone bring the entree, have someone bring the sides, have someone bring the decorations. Make it a group effort."
Let's be real: Figuring out all the elements of a party at once is honestly a lot for one person to handle, from the food to the decor to the playlist. Luckily, Harris has a great suggestion to help balance all of these details: "If the process of creating the meal is part of the party, then it takes the stress off the host and allows everyone to take a little more ownership," he says.
Harris and Burtka agree that planning a get together can be a social experience in itself. "Failure gets to be fun, as opposed to you [being] by yourself in your kitchen, freaking out because something got overbooked, and now what are you supposed to do? If you're doing it with people in the party, you can figure it out together," Harris tells Elite Daily.
Speaking of figuring it out together, the couple tells me that's exactly what they do with their adorable twins, Harper and Gideon, who recently turned 8 years old this fall. When setting up for their birthday party, Burtka and Harris tell me the kids were more than happy to get involved. Gideon, for example, who was super excited about his new watch, was the "time man," and he made sure to remind the family how many minutes they had until the guests arrived (which has to be the cutest thing you'll hear all day). As for Harper, the couple says her role was to keep coming back after completing different tasks to proclaim, "I need a new job!" Too freaking cute.
Harris says that kids learn from experience and repetition the same way adults do. "The first time you cook, you're uniformly terrible," he tells Elite Daily. "But the fifth time you cook the same thing, your skills have improved."
That doesn't sound so scary, does it? So the next time you're planning a celebration over the holiday season, prepare to make your friends your personal sous-chefs — and remember, even if the mashed potatoes come out more like potato mush, at least you'll all be able to laugh about it together.