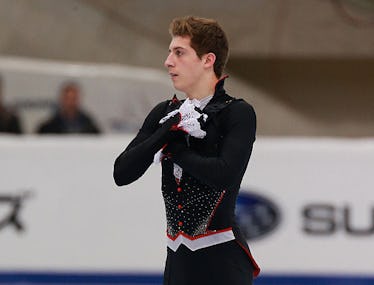 This Olympian's Skate To Imagine Dragons Is So Intense
Oleg Nikishin/Getty Images
Sometimes, an ice skating routine is all about the jumps. But in other routines, it's the music that catches your attention. The latter is definitely the case with Moris Kvitelashvili's free skate, which uses Imagine Dragons as its soundtrack. Kvitelashvili, who is skating for the country of Georgia, has been making seriously incredible use of his skating songs, and I can't get enough of it.
Kvitelashvili may not be a frontrunner for the podium in the men's individual figure skating competition at the PyeongChang Olympics, but he is certainly a frontrunner for most interesting use of music. The Georgian skater began his individual competition at the Olympics with his short program on Friday, Feb. 16 in South Korea (Thursday night in the United States). For that, he skated to "Feeling Good" by Michael Bublé. It was a saucy, upbeat routine that featured Kvitelashvili slinking through his spins and jumps.
With that program on Friday (again, Thursday in America), he came in 22nd place in the men's individual figure skating competition. The top 24 from the short program then go on to compete in the free skate. The free skate competition is taking place on Saturday, Feb. 17 in PyeongChang (Friday night in the U.S.), and it is the final round to determine the Olympic medals.
The short program is just about two and a half minutes, but the free skate goes on for over four minutes. Kvitelashvili fills that time with a medley of Imagine Dragon songs, and it's pretty cool to watch.
You can see Kvitelashvili's short program, with Michael Bublé, here (video from the 2018 European Figure Skating Championships, which happened in January):
And you can see his free skate, with Imagine Dragons, here (video from the 2017 Rostelecom Cup, which happened in October 2017):
Kvitelashvili's free skate uses a few Imagine Dragons hits. It begins with "Radioactive," which transitions into "Dream." Finally, of course, we get the stomping track "Believer" by the pop rock band. All in all, honestly? It's a great pick for a figure skating routine, since the programs are supposed to be over-the-top emotive, to a point.
The music at the Winter Olympics for figure skating has been particularly catchy this year. That's because the rules for figure skating music have been changed. Now, for the first time ever, skaters can use songs that have lyrics in them for their programs. So that means that viewers get to see experiences like Adam Rippon skating to Coldplay, Maé-Bérénice Méité skating to Beyoncé, and, yes, Paul Fentz skating to a Paul Anka cover of "Wonderwall" (hey, I didn't say all the song choices were winners).
Figure skating sits in a strange spot for the Olympics as it's judged both on technical ability and artistic presentation. That means that not only do skaters have to land all their triple axels, but they also have to make the overall performance look, well, like a performance. The costumes, music, and smiles all matter. That's why people pay such close attention to the music — what's happening on the ice should have cohesion with what's happening in the music. Isn't it great??? I love it.
The short program is a more technical event. The skaters are supposed to hit a prescribed set of tricks and features. The free skate, as the name indicates, is more expressive. With the four and a half minutes, the men will be showing off everything they can do to the best of their abilities — and it better have personality to make it to the podium.
Although Kvitelashvili is not particularly in the running for a medal, making it to this stage is a victory in and of itself, and he's sure to win some fans with his Imagine Dragons routine.