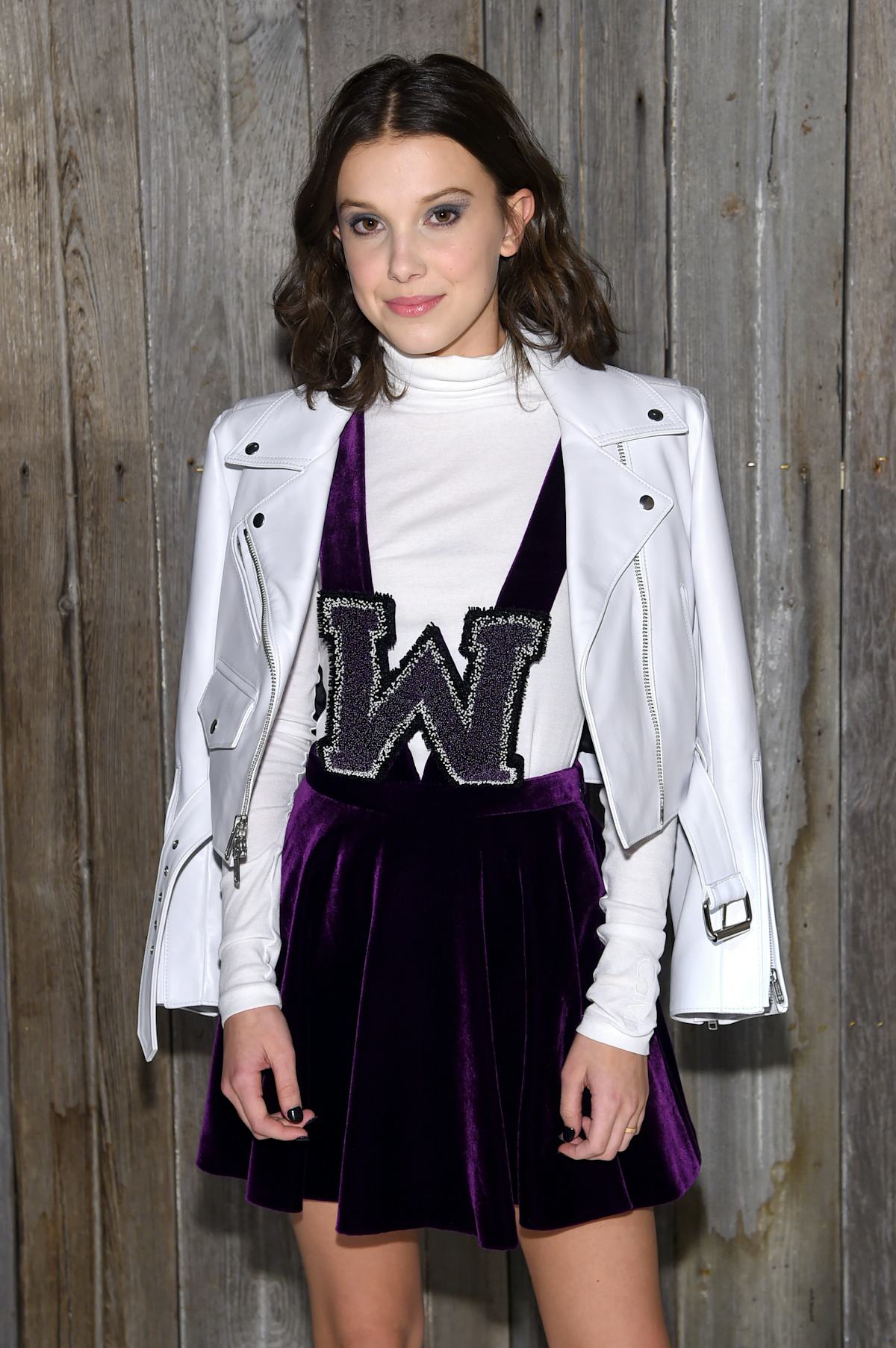 Millie Bobby Brown & Her BF Showed Major PDA On Twitter For Valentine's Day
Jamie McCarthy/Getty Images Entertainment/Getty Images
There's nothing sweeter than young love. When everyone's favorite 13-year-old beauty queen, actress, and overall kickass teen is in a relationship — that's cuteness overload. Stranger Things' Millie Bobby Brown has a boyfriend and they're giving us all the feels on social media. Millie Bobby Brown's tweets about Jacob Sartorius on Valentine's Day are seriously the cutest.
On Feb. 14, Brown took to Twitter to wish her boyfriend a very happy Valentine's Day. She posted a photo of the two sitting in casual clothes with their foreheads tenderly pushed together. The photo was captioned, "Happy Valentine's day J," with a heart emoji. It's a very sweet photo, and the two look extremely happy in it.
Who is Jacob Sartorius and how did he score our Netflix kween? The 15-year-old-singer has over eight million followers on Instagram and quite the following for his music career. I wasn't super familiar with Sartorius before he started dating Brown, but I'm also a decade older than him and not in that teen music scene. *Puts on reading glasses and goes to bed at 8 p.m.* Sartorius is big, though. His bop "Chapstick" has 17 million views on YouTube and his other single from last year "Hit or Miss" has racked up 56 million views. Not bad at all. He kind of has a very early Justin Bieber thing going on. Obviously, it's working for Brown.
Sartorius retweeted the adorable photo and said, "happy valentine's day.. see you soon."
He also took to Instagram to gush about the actress. He captioned a photo on his Instagram story,
happy valentine's day to this beautiful girl... I miss eating chick fil a with you every day
They definitely sound like typical teenagers eating fast food everyday. Rumors started swirling about these two in January thanks to some pretty obvious clues on social media. On Jan. 9, Sartorius tweeted "just another day w you on my mind," and Brown liked it.
A few days later, on Jan. 12, Brown posted a photo of her cuddling a giant teddy bear reportedly gifted from the singer.
Then, on Jan. 17, he posted, "i think about the future a lot better w you in it." Could this mean young love? I definitely think so. Or, he's talking about Chick-fil-A again.
The two reportedly even spent New Year's with Brown's family at Disney World in Orlando, Florida. I can't take the cuteness.
While some people may think Brown is too young to be galavanting around town with a boyfriend, the actress is extremely mature for her age. She's been hurled into the spotlight thanks to Stranger Things and has handled fame with as much grace and dignity as the old pros in Hollywood.
For example, while some people would freak about shaving their entire head — especially as a pre-teen when you're self-conscious literally all the time — Brown recalled it as the most "empowering" moment of her life. She said in a January Instagram post,
The day I shaved my head was the most empowering moment of my whole life. The last strand of hair cut off was the moment my whole face was on show and I couldn't hide behind my hair like I used to. The only image I had in my head about what I could possibly look like is Charlize Theron in Madmax. As I looked at myself and couldn't see my old self, I realized that now; I have a job to do and that is to inspire other girls that your image or exterior part is not what I think is important. What I find important is caring, loving and inspiring other girls. Thought to share my thoughts during this life changing moment.
13-years-old and such a badass. If she wants to have a Valentine, then she should. Do you, Millie.
Check out the entire Gen Why series and other videos on Facebook and the Bustle app across Apple TV, Roku, and Amazon Fire TV.