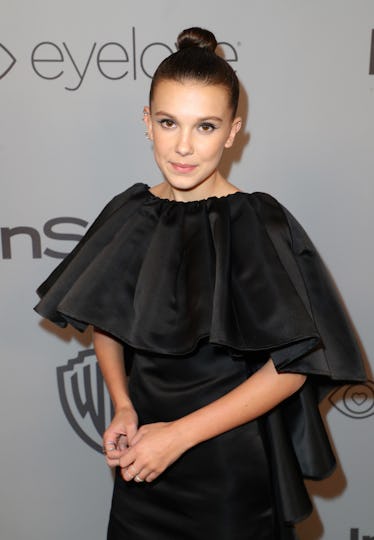 Millie Bobby Brown Reportedly Has A New Boyfriend & It's So Cute
Joe Scarnici/Getty Images Entertainment/Getty Images
You guys remember when you were 13 years old, a huge celebrity, star of a Netflix series, budding model, and dating the most beautiful baby boy in the whole world? Millie Bobby Brown does. According to reports, the Stranger Things star has a full-on boyfriend, and I am weirdly loving it. Milly Bobby Brown's boyfriend is Jacob Sartorius, and they're the most adorable young couple we've seen since 2011 Jelena.
For those of us who are paying close attention, Brown is gearing up to take over the world. Even though she's barely a teenager, this girl has the poise, maturity, and grace of an old-timey Hollywood actress. Like, I'm sorry, but who taught her to "smize" like that? I suppose it was only a matter of time before she embarked on her first serious relationship.
This part might surprise you, but I'm not as familiar with Jacob Sartorius. It's not because he isn't famous — because he really is — it's just that I'm not exactly his demographic. Sartorius is the music heartthrob of today's younger generation, and he's most known for his single, "Chapstick." I did a quick Google-Google, and the "Chapstick" music video has more than 15 million views on YouTube. It's... alarming.
Check out this kid's swagger.
So much hair, right?
According to Us Weekly, Brown and Sartorius have been spending a lot of time together. As recently as Jan. 9, Sartorius tweeted "just another day w you on my mind," and Brown liked it.
It's just one of his many tweets that hint at a serious relationship. On Jan. 17, he posted, "i think about the future a lot better w you in it."
For her part, Brown isn't hiding her feelings for Sartorius. Around the time of his tweets, Brown shared two photos of herself snuggling a giant stuffed bear on Instagram. According to Us Weekly, the bear was a gift from Sartorius.
She captioned the photos, "Thanks for the bear." Sartorius commented, "[Of] course."
See what I mean? Swagger.
If you think it's impossible for teenagers to have a "serious" relationship, please consider the fact they spent New Year's Eve together in Disney World.
I know. Wut?
That's a trip some adult couples plan for years. Apparently, they traveled with Brown's family and were even photographed by park-goers.
There's a lot of commentary going on out there suggesting Brown is growing up too fast. To be fair, she does have a lot more going on than the average teenage girl. Instead of playing extracurricular sports and planning on what to wear to her first dance, Brown is taking over Netflix and planning on what to wear to her next awards show.
Brown had an Emmy nomination for Outstanding Supporting Actress In a Drama, and told Variety magazine, "It was a true honor and privilege to be representing the young generation." Not to mention, everyone who has worked with her can't stop singing her praises. Actor David Harbour, who plays Chief Hopper in Stranger Things, said,
I'm leery of blowing too much smoke up her already well-filled smoke *ss... Because I do feel that when I'm in the nursing home, I would like to be able to watch movies with her in her 30s and have her become Meryl Streep. She has the potential for that to happen.
Hm, sounds like you need to hold on, Sartorius.
It's too soon to tell if these two will last for years to come, but for now, we hope they can just enjoy the ride.
Check out the entire Gen Why series and other videos on Facebook and the Bustle app across Apple TV, Roku, and Amazon Fire TV.