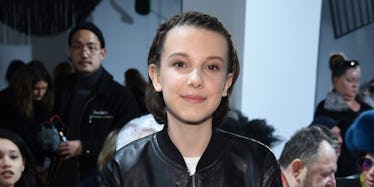 Millie Bobby Brown's Emmys Look Is So Young Natalie Portman And It's Stunning
Getty Images
On television's biggest night, Stranger Things cutie Millie Bobby Brown took a page from a major movie star: Natalie Portman. Clad in Calvin Klein, Millie Bobby Brown's Emmy's dress looks like a fairytale/ballerina hybrid, with a creamy strapless bodice and a MAJOR full skirt. The internet was quick to point out the obvious similarities to a young Natalie Portman, another star who graced red carpets starting at a very early age. Brown is only 13 years old, but she looks as chic and graceful as any other attendee.
I totally understand her borrowing from a polished actress like Portman, given how much is at stake tonight. Brown's up for the Outstanding Supporting Actress in a Drama Series award for her portrayal as the amazing, supernaturally gifted Eleven on Stranger Things. If she takes home the golden statue, she will become the youngest ever to do so. Given everyone's collective obsession with how adorable the cast of Stranger Things is, fans of all ages are pulling for a Brown victory tonight.
She's up against some staunch competition in the crowded category, as fan-favorite Uzo Aduba from Orange is the New Black is also in the running. Another Orange is the New Black actress, Samira Wiley, is up for her role in the dystopian drama The Handmaid's Tale, as is Ann Dowd.
At least for now, all eyes are on Brown and her crazy-nearly-identical look to Natalie Portman. Nostalgia for Where The Heart Is, anyone?
As soon as she stepped her dainty ankle-strap heels onto the carpet, fans swiftly identified the Brown/Portman lookalike status. It's currently blowing their minds.
It's not even the first time the two actresses have been compared. Portman shaved her hair for her role in 2006's V For Vendetta, and Brown's Stranger Things character Eleven is also bare on top. It's like the two have a special connection.
Brown's gown's only pop of color comes from a silky black-and-white sash, which she matched to her dark manicure. To complete the elegant vibe, Brown's brunette hair is slicked back into a sleek ballerina bun. Her skin is glowy and dewy, with a smidge of gloss and highlighter on her nose, and brows neatly brushed up. Honestly, with her clean makeup look, she couldn't be more a dead ringer for Portman.
The look is not a departure for Brown, who constantly out-dresses people twice her age on the carpet. For the MTV Music Video Awards, the Screen Actors' Guild award-winner sported a studded, sparkly Rodarte dress. "This was pretty cool," she said of the futuristic look on Instagram. On Sept. 16, Brown posted a picture of herself in a midi-length, polka-dot dress, oversized sunnies and ankle-strap platform shoes, and cited another style influence. "Audrey is my icon," she wrote, alluding to Audrey Hepburn, a classic actress not too far off from the Natalie Portman aesthetic vein. Brown, Portman, and her confirmed icon Hepburn all possess a natural grace and doe-eyed charm.
"What's lovable about Brown's style is that it's fun, quirky, boyish and unabashedly young," writes Harper's Bazaar. "She dresses for her age with prints and colors, and she isn't rushing to step out in high heels, which is fine because her sneakers, boots and oxfords of choice are nonetheless chic. Though she's got the cute factor, her pixie cut gives her that cool-girl appeal."
According to Vogue Paris,"the young trendsetter has got sporty chic down to a tee," and "with looks getting more and more refined with every public appearance, there's no wonder she's shot up the style stakes so lightning fast." It seems fans couldn't agree more, and can't wait to watch as Brown's style evolves on the red carpet for years to come.