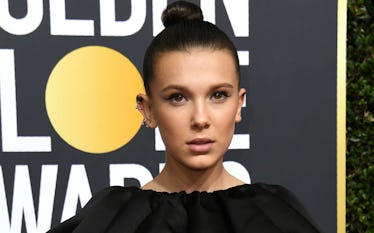 Millie Bobby Brown's Post About Shaving Her Head For "Stranger Things" Is So Inspiring
Ever since the Time's Up legal fund was announced on Jan. 1, 2018, women in Hollywood have been speaking out against the gender pay gap and sexual harassment/assault against women and men across all industries. It's been inspiring and motivating to see all of these seasoned actresses and activists coming together to uplift women, and those actions are influencing the younger women in Hollywood. Millie Bobby Brown is reflecting on her time on Stranger Things and how she feels about playing a powerful young woman on the show. Brown knows she has become a role model for so many kids her age (13) following the success of Stranger Things, and she's not taking that responsibility lightly. Millie Bobby Brown's post about shaving her head for Stranger Things is an inspiring example of the effect of the Time's Up movement and how it's motivating young actresses to empower themselves and others as they grow through their careers and lives.
If you've never seen Netflix's hit drama, it's like E.T. meets The Goonies (how have you not watched it by now...?) Brown plays a telepathic kid named Eleven. Her real name is Jane, but she was kidnapped as a baby and held in a lab as a government experiment until she escaped in the pilot episode. In the first season of the show, Eleven's hair is a buzzcut. Brown really did shave her head for the role, and her throwback post about this moment is now going viral.
Brown posted a video of the moment she shaved her head for Stranger Things on Sunday, Jan. 14, with an inspiring message to fans.
Her caption read,
The day I shaved my head was the most empowering moment of my whole life. The last strand of hair cut off was the moment my whole face was on show and I couldn't hide behind my hair like I used to. The only image I had in my head about what I could possibly look like is Charlize Theron in Madmax. As I looked at myself and couldn't see my old self, I realized that now; I have a job to do and that is to inspire other girls that your image or exterior part is not what I think is important. What I find important is caring, loving and inspiring other girls. Thought to share my thoughts during this life changing moment.
Brown has talked about this "empowering moment" in interviews before. In an interview with Vulture, she revealed her family was really against her shaving her head, as she had never drastically changed it at all during her life. But homegirl was committed to the role, so she did it anyway! She told the outlet,
My mom and my grandpa were like, 'No, you can't do that.' It took me 12 years — well, 11 years — to grow something. [My hair] wasn't thick, but it was long. And then they shaved it all off and it was very hard for my parents. But I convinced them. I was like, 'Dude, it grows back. It's fine.'
Brown saying, "Dude, it grows back. It's fine" sounds more like what a parent would say to their kid than the other way around, so this quote has me LOLing at how chill she was about shaving all of her hair off. But hey, an actor's gotta do what an actor's gotta do! Lots of women have shaved their heads for a role, like Charlize Theron, who Brown mentioned in her post. I'm sure she was able to pull strength from women like Theron, as well as Natalie Portman and Anne Hathaway, who both had their heads shaved on camera for their respective roles in V for Vendetta and Les Misérables.
Natalie Portman is one of the women deeply involved in the Time's Up movement.
During the 2018 Golden Globes, Portman took a huge jab at the award show for not nominating any women for Best Director. She went on stage with Ron Howard to present the nominees and winner for Best Director at the Golden Globes, and when it was time to list the nominees, Portman said, "Here are the all-male nominees." The crowd responded with a "Woahhh!" as in, "OMG, she just did that. She went in," and the camera immediately panned to the all-male nominees, who looked super uncomfortable.
The Golden Globes was called out for snubbing all of the fantastic female-directed films this year. Many feel Greta Gerwig deserved a nomination for directing Lady Bird (for which she also wrote the screenplay). Considering the film ended up winning the Golden Globes for Best Picture - Comedy or Musical and Best Performance by an Actress in a Motion Picture - Musical or Comedy, it doesn't really make sense that the film's director could be deemed inadequate.
At the end of the night, Brown posted on her Instagram story saying how inspired she was to have seen all of the women and men standing in solidarity with Time's Up.
In a video on her Instagram story after she got home from the Golden Globes afterparties, Brown said, "Time's up. Thank you to all these amazing women who have inspired me and changed my life and made me feel like I can do my job and feel proud. So, thank you." Safe to say Eleven is feeling inspired AF.