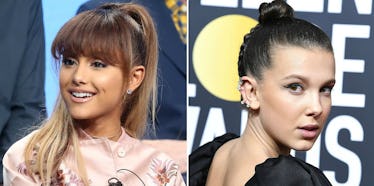 Ariana Grande's Text To Millie Bobby Brown At The Golden Globes Is Friendship Goals
Frederick M. Brown/Steve Granitz/Getty Images
Millie Bobby Brown was nominated for a Golden Globe for her performance as Eleven in Netflix's Stranger Things. Like the other actresses attending the awards show on Sunday, Jan. 7, she wore all black in solidarity for the Time's Up initiative, and women supporting women was basically the theme of the entire night as a result. To drive that point home, Brown posted a screenshot of the sweet messages her pal Ariana Grande sent her in reaction to her red carpet look, and Ariana Grande's text to Millie Bobby Brown at the Golden Globes is the sweetest thing you'll see all day.
Brown posted the screenshot of her and Grande's text conversation on her Instagram story as one of the few things she posted on her story throughout the night. Her story also included a shot of her and David Harbour, aka Jim Hopper, aka Eleven's new dad on Stranger Things. Harbour was also nominated for his performance on the show this season, so the Hopper family definitely has something to celebrate! But back to women supporting women. Brown posted the screenshot of her and Grande's conversation, and it's all just Grande fangirling over Brown's Golden Globes red carpet look.
I didn't know how much I needed to know these two are friends until this moment.
Grande texted Brown a series of texts that reads like that Lady Gaga clip where she keeps on saying "Another club, another club, another club, another club." She texted Brown, "And like yes to the black. And like yes. Proud. Gorgeous. Stunning. Bye." My dog has black hair. This is what I say to him every morning when he wakes up. Brown posted the screenshot and captioned it, "love her so much" with a black heart.
Brown also posted a selfie video on her story after the night was over. Noticeably moved, she took that time to thank all of the women of the Time's Up initiative for inspiring her and making her feel like she can focus on her work without fear. She said, "Time's up. Thank you to all these amazing women who have inspired me and changed my life and made me feel like I can do my job and feel proud. So, thank you." Girl, I don't know why, but I'm crying in the club right now! Brown had an onslaught of inspiring moments to be uplifted by at this year's Golden Globes.
Oprah is the first black woman in history to be awarded the Cecil B. DeMille Award. In her speech, she made note of this, and she also made note of the story of a woman named Recy Taylor. Taylor, Oprah said, was attacked by a group of white men and when she sought justice, Rosa Parks (yes, the Rosa Parks) was one of the people working at the NAACP assigned to her case. Taylor died 11 days ago, and Oprah wanted to use her time to highlight that story and its message of the importance of standing up for racial and gender equality. The most powerful part of the speech came when Oprah addressed the power of women speaking their truths and the power of men who are willing to listen and believe them. It was her contribution to the Time's Up initiative for that night (she also wore black). She said,
The men who tried to destroy her were never persecuted. Recy Taylor died ten days ago, just shy of her 98th birthday. She lived as we all have lived, too many years in a culture broken by brutally powerful men. For too long, women have not been heard or believed if they dare speak the truth to the power of those men. But their time is up. Their time is up.
She continued,
I want all the girls watching here now to know that a new day is on the horizon! And when that new day finally dawns, it will be because of a lot of magnificent women, many of whom are right here in this room tonight, and some pretty phenomenal men, are fighting hard to make sure they become the leaders who take us to the time when nobody ever has to say 'Me too' again.
Brown seemed to have an amazing night after the show was over, as well. She hung out with Drake again!!
And she slayed this video.
I'm going to be honest. I usually don't give a crap about the Golden Globes, but last night's show was probably the best awards show I've ever watched in my life. So shout out to all of those amazing women who made it happen by supporting each other wholeheartedly.
Check out the entire Gen Why series and other videos on Facebook and the Bustle app across Apple TV, Roku, and Amazon Fire TV.