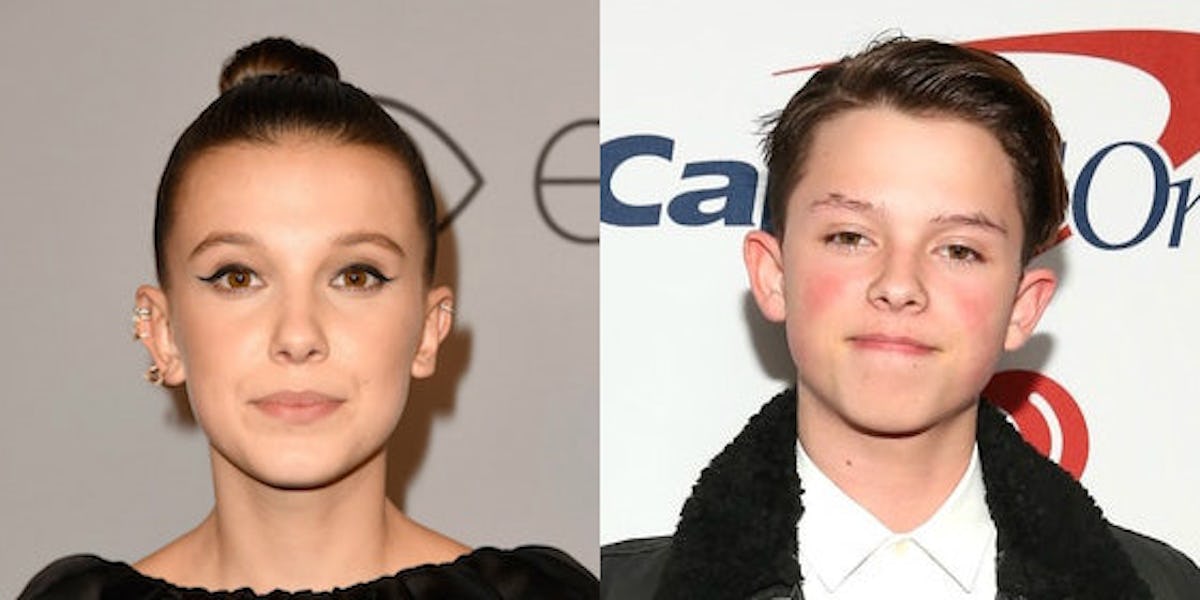 Millie Bobby Brown Shared The Cutest Pic On IG & We're Convinced She Has A BF
Frazer Harrison/Monica Schipper/Getty Images Entertainment/Getty Images
Do you ever go back in your mind and think about all of the crushes you had when you were younger? Of course, you can still have crushes as an adult, but there's something magical about having a crush when you're a teenager, and it becomes more magical when that crush (hopefully) becomes your boyfriend or girlfriend. Watching the kids of today experience crushes gets me emotional, especially when they're, say, a famous TV star with millions of Instagram followers. Millie Bobby Brown's Instagram story photo with Jacob Sartorius totally has me tearing up.
On Friday, Jan. 19, the actress shared a post on her Instagram story that had fans buzzing. While we're used to seeing her amazing wardrobe and fierce magazine covers, the photo she shared was much more personal, and it gave us all of the feels. The sweet black-and-white snap features Brown and Jacob Sartorius with their heads pressed together, and is decorated with three red heart emojis. Not blue, not yellow, but red. This is serious, y'all.
The photo is dated Dec. 31, 2017, aka New Year's Eve. According to E! Online, Sartorius spent the holiday with Brown and her family at Walt Disney World in Orlando, Florida for NYE. They may be young teens, but spending a major holiday together seems pretty serious to me, not to mention totally romantic.
Although the teens haven't officially confirmed that they're dating, rumors about their relationship have been flying for a while. It all started when fans noticed that they were liking each other's posts on social media. Ah, young love.
Then, on Jan. 12, Brown posted a photo on Instagram snuggling a giant teddy bear with the caption, "Thanks for the bear," with a red heart emoji. Fans quickly guessed who the bear was from, and Sartorius quickly confirmed when he commented, "[Of] course" — complete with a red heart emoji. I swear, kids these days have way too much game.
Sartorius' tweets have also added to the speculation. The teen heartthrob just began touring the U.S. and Canada, but is still finding time to tweet about pizza, his haircut, and Mario Kart. You know, pretty standard teen stuff. But some of his tweets have a bit more of a lovey-dovey vibe, including one that he posted on New Year's Eve.
Some fans aren't exactly thrilled about the alleged romance. However, plenty of people have stepped in to defend the young stars and their right to enjoy their puppy love. Honestly, they seem super smitten, and at the end of the day, they're teens — just let them live!
There was a brief break in the Millie-Jacob (Jillie? Macob?) news when fans noticed Brown's striking resemblance to a young Natalie Portman. Twitter users began comparing photos of the actresses side-by-side, and not before long, everyone was totally shook. The two have similar eyes, noses, and mouths, and make eerily similar facial expressions. Even with their heads shaved — Brown for Stranger Things and Portman for V For Vendetta — the two look so much alike. Maybe someday Brown will play a young Portman in a biopic.
Stranger Things racked up four Screen Actors Guild Award nominations this year, including Outstanding Performance by an Ensemble in a Drama Series and Outstanding Action Performance by a Stunt Ensemble in a Comedy or Drama Series. David Harbour is up for Outstanding Performance by a Male Actor in a Drama Series for his role as Jim Hopper, and Brown is nominated for Outstanding Performance by a Female Actor in a Drama Series for her role as Eleven. Here's hoping she takes home a statue, and maybe another giant teddy bear.
Check out the entire Gen Why series and other videos on Facebook and the Bustle app across Apple TV, Roku, and Amazon Fire TV.