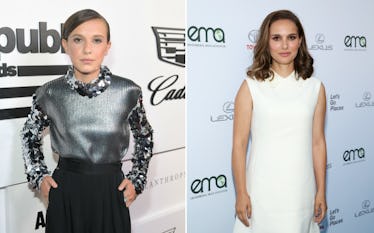 Millie Bobby Brown Looks Exactly Like Natalie Portman As A Kid & The Pics Have Me Shook
Charley Gallay/Phillip Faraon/Getty Images Entertainment/Getty Images
Do you ever see a certain beautiful celebrity and do a double-take because you had mistaken them for another beautiful celebrity? C'mon, we all know Amy Adams bares a striking resemblance to Isla Fisher, and Katy Perry looks so much like Zooey Deschanel that it's kind of scary. But there's a new celebrity doppelgänger in town, folks, and it will have you screaming. The latest subjects? Millie Bobby Brown and (a young) Natalie Portman. And let me tell you that these side-by-side photos of Millie Bobby Brown and Natalie Portman will make you question your entire existence. Yes, they are that alike, so prepare yourselves.
I think we all know by now that teenager/celebrity superstar/model Millie Bobby Brown is crushing the Hollywood game — not only landing herself as one of the most prominent characters of what is basically a cult classic Netflix series, Stranger Things, but she's also signed with a modeling agency and works with fashion designer Calvin Klein. NBD. All of these accomplishments are under her belt at the tender age of 13, no less. So, yeah, I guess you could say that Brown is undoubtedly going places. But what fans are talking most about right now is her appearance, getting recognized as looking realllllly similar to Natalie Portman, another starlet who started off her career as a young teenager, who also happens to model for a fashion designer (Dior, in case you were wondering).
The similarities are building up already, you guys.
But we're not here to talk about how incredible and successful these actresses are (because we already know that, duh). We're here to talk about how they look so much alike, it's actually kind of freaky.
Can we just talk about this for a sec?
But how...?
I'm sorry, what?
OK, but I'm sure if we blended the two faces together, each side would look totally diff-
Oh. My. God.
But wait. There's more.
I'm sure you'll remember when Millie Bobby Brown talked about shaving her head for her role as Eleven on Stranger Things. She took to Instagram and posted a video of the moment when her locks were cut off:
The caption read,
The day I shaved my head was the most empowering moment of my whole life. The last strand of hair cut off was the moment my whole face was on show and I couldn't hide behind my hair like I used to. The only image I had in my head about what I could possibly look like is Charlize Theron in Madmax. As I looked at myself and couldn't see my old self, I realized that now; I have a job to do and that is to inspire other girls that your image or exterior part is not what I think is important. What I find important is caring, loving and inspiring other girls. Thought to share my thoughts during this life changing moment.
So inspiring.
In case you didn't know, our girl Natalie Portman also shaved her head for her role in the movie V for Vendetta. In a press interview, Portman gives an equally motivating speech, letting the world know that shaving her head was "actually kind of wonderful." She said,
As for the head shaving, obviously for the character it's a very traumatic experience because it's a violence committed upon her. But for me, I got to choose to do it, so obviously for me it didn't feel like a violence committed against me, and it was actually kind of wonderful to throw vanity away for a little bit as a woman. You're always expected to be primping and preening yourself. It's a pretty nice opportunity to not think about that stuff for a little [while].
And you know what? Brown and Portman somehow resemble each other MORE when their heads are shaved:
Yup. I'll let this just sink in with you for a moment.
So who knows, maybe they are just two random (fantastically beautiful) people who look startlingly alike. Or maybe they have the same ancestors from hundreds of years ago. OR maybe this is the start of Stranger Things 3, where Eleven clones herself and assembles an army to fight in the Upside Down.
All logical explanations, if you ask me.