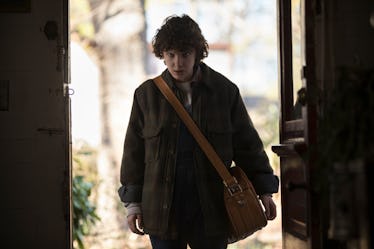 Millie Bobby Brown's Golden Globes Snub Has 'Stranger Things' Fans Devastated
Netflix
The irony of the Emmys' calendar running June-June, versus the Golden Globes' calendar running January-December, strikes again. While it was just a few months ago that we watched Stranger Things Season 1 walk in to the Emmys as a favorite only to leave without any trophies, at the 2018 Golden Globes, the more recent Season 2 will be up for nominations. Season 1 caught the Hollywood Foreign Press' attention for Best Drama Series and Best Actress for Winona Ryder. But will Stranger Things' Golden Globes chances be as high for its second season?
The Globes are historically finicky when it comes to voting each year. Something that catches the Hollywood Foreign Press Association's eye as the hot new thing one year may have totally cooled by the next. Game of Thrones, for instance, won two Globes in its first year, and then scored no nominations for the next two seasons. Stranger Things, being another genre show, could easily find itself consigned to the same fate, now that Justice for Barb has been served.
Stranger Things only landed two nominations last year at the Globes, and this year, it did the same. Last year, neither of those Globe nominations turned into wins, so the odds of the series actually winning in 2018 are somewhat slim.
Stranger Things' big win last year (and the speech that spawned the Winona Ryder facial expression meme) came at the Screen Actors' Guild Awards a few weeks after the Globes. But the Globes might feel like the SAG Awards outshone them in this regard, and want to get first crack at another David Harbour rant this time.
It looks like this year, the Globes are at least hoping for another Harbour rant. He was nominated for a Golden Globe for Best Supporting Actor in a Limited or TV series, the only actor in Stranger Things to land a solo nomination for the 2018 awards. Other than that, there was only a single other nomination for the Netflix series, in the Best Drama Series category, which felt more obligatory than anything with oomph behind it. And Millie Bobby Brown was completely overlooked.
The overlooking of all the kids seemed to upset fans in general.
And while we all expected fans to freak out over Brown's lack of a nomination, it was Noah Schnapp who most fans were upset about.
In fact, his snub seemed to be the complaint of the day.
To be fair, Schnapp's performance as Will Byers was so good, it suddenly seemed a shame he was basically left out of Season 1. It's likely that Season 3 will once again focus around Byers — maybe he'll even get a standalone episode, "My Life As Zombie Boy."
Some fans are trying to start a hashtag for Schnapp, in the grand tradition of Stranger Things tweets.
For his part, it looked like Schnapp himself was taking the lack of a nomination in stride. Like a true professional, he spent his time tweeting out a congratulations to Harbour instead. In fact, he made sure to shout out to everyone, including the Duffer brothers, director Shawn Levy, and the entire cast and crew.
Millie Bobby Brown also took her lack of nomination in stride, instead spending her energy sending good vibes to her TV dad. She even hinted at a Daddy Daughter dance. That would be the most awww moment ever to happen next year at Snow Ball '85, right?
Harbour hasn't responded yet via tweet, but it is barely 6 a.m. on the West Coast. And as we all know, mornings aren't for Twitter. They're for coffee and contemplation.