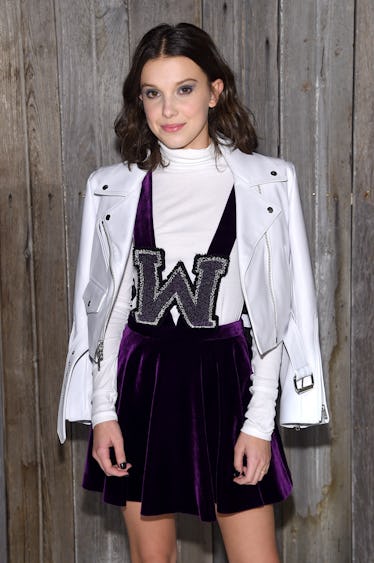 Millie Bobby Brown's Calvin Klein Campaign Might Be Even Better Than The Kardashians'
Jamie McCarthy/Getty Images Entertainment/Getty Images
Solange's self-selected music family. The Kardashian sisters. A$AP Mob. The Gerber siblings. These tight-knit groups and pairs have all been shot together in ad campaigns for a brand that defines American fashion. And now, Millie Bobby Brown's Calvin Klein campaign, in which she appears alongside Paris Jackson and model Lulu Tenney, is here to continue the brand's legacy of outstandingly arresting advertising, just in slightly different style.
All of the aforementioned groups — composed of collaborators, friends, relatives, and crews — were shot as part of the same ongoing #MyCalvins campaign. It might seem strange, then, that Brown would appear alongside Jackson and Tenney for the same series, seeing as the three aren't known to be closely acquainted. However, their connection lies within the brand itself, as they are all part of the Calvin Klein family, curated by creative director Raf Simons. If you're a fashion fiend, you probably already know that each of them have forged strong ties with the brand as of late: Jackson wore a custom Calvin Klein By Appointment gown to the 2017 Met Gala; Brown fronted Simons' first campaign for Calvin Klein; Tenney is a known CK muse.
What's more, all three starred in The XX's music video for their single, "I Dare You," last summer (Ashton Sanders also appeared in it). As told to Refinery29, Calvin Klein describes the video as a "creative collaboration between the band; Simons; and photographer and filmmaker Alasdair McLellan."
It makes sense, then, that Simons would bring three of his muses together for a project that would be solely representative of Calvin Klein itself. Shot by Willy Vanderperre, the photo stays true to the bluntly Americana vibe the brand has embodied as of late, with a wooden barn and patchwork quilt serving as its backdrop. Brown and Tully wear white and red versions of elevated workwear, while Jackson is pictured in jeans and a branded Calvin Klein sports bra. It's impactful in its simplicity, dazzling it its cast.
"To be a part of the Calvin Klein family is surreal and I feel like I'm carrying on a legacy," Brown says in an interview with Refinery29. "This will definitely be one of the most memorable things that I have ever done. When I'm 90, I'm going to be like, I can't believe that was me at 13! Calvin Klein is feminine, it's edgy; it's something that I wear every single day."
Although Brown, herself, is from the United Kingdom, she understands how Calvin Klein is, in a sense, a sartorial embodiment of the American spirit and history. "We shot this campaign in a barn and I think the setting completely embodies America and so does the fashion," she tells Refinery29. "I'm English, and I've always looked up to the American style. Calvin Klein is Americana to me. Raf has reincarnated Calvin Klein in a way that has made it modern and also takes it back to its roots."
Tenney, who has worked with the brand extensively and understands its DNA, adds, "In the past two years especially, I think Calvin Klein has taken American symbols and myths that everyone knows and has made them fresh again, by giving them new and interesting meanings."
Indeed, if you look at how Simons has reimagined American staples — denim, cowboy boots, cowskin, suede, patchwork — you'll understand that his take is decidedly modern. Scratchy workwear gets a silky update, and quilts are repurposed as coats. This ability to stay true to the core ideas and values of something while progressing them with a forward-thinking mentality is at the brand's core and extends beyond their fashions.
"Calvin Klein is inclusive and whatever divisions we create as humans, I feel like they overlook that and speak to everyone," explains Jackson. "That's American to me, and it's beautiful."