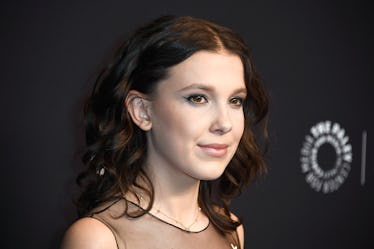 Millie Bobby Brown & Her Boyfriend's Matching Instagrams Are #CoupleGoals & I Can't
Frazer Harrison/Getty Images Entertainment/Getty Images
Netflix's Stranger Things gave us some amazing 80s-inspired television, sure, but its real gift was Millie Bobby Brown. The teenage "it girl" is always #goals, especially when she's posting matching pics with her boyfriend. Millie Bobby Brown and Jacob Sartorius' matching Instagrams are #couplegoals, and I can't.
Are you ready to be totally destroyed by cuteness? On Saturday, May 26, the Stranger Things star posted a photo to Instagram of herself and bae on the beach kissing in the moonlight. The caption read, "moonlight w him." As if that wasn't enough to make everyone jealous, Sartorius shared the same exact picture to his Instagram, only the caption read — you guessed it — "moonlight w her." I can't. I really just can't with them.
Do you remember what it was like to have a crush or a boyfriend/girlfriend when you were a teenager? All this has me thinking back to when I was 13. How would all of my relationships or crushes played out on social media (if that was thing back then)? I'm guessing it would not have measured up to all the #couplegoals happening on Brown and Sartorius' Instagrams RN. Really, these his and hers pics are doing the most. It's the ultimate romantic gesture for a 13-year-old (and, like, also a 20-something, if I'm being perfectly honest).
Brown and Sartorius began their budding romance as all teens do: flirting with each other on social media — by flirting I mean liking each other's posts, of course. Naturally, rumors started to fly about their relationship status. There were also a few cryptic social media messages that took some real stans to decipher. For instance, a photo that Brown posted on Jan 12 had fans buzzing. The pic had the Stranger Things star hugging a giant bear and the caption read, "Thanks for the bear," with a red heart emoji. So of course fans figured the bear was a gift from Sartorius. Turns out they were right, because Sartorius commented, "You're welcome." Boy these teen relationships are adorable.
Then on January 19, Brown posted a selfie to her Instagram story with Sartorius and three red hearts. The photo was dated December 31, 2017, which means that they rang in the new year together. That's some serious business.
The rumors were never really officially confirmed, but there was no need after the couple shared some sweet nothings online over Valentine's Day 2018.
Brown shared an adorable photo of the couple staring into each other's eyes — the way only starry-eyed teens can — with the caption, "Happy Valentine's Day J" and a read heart emoji.
Of course Sartorius responded in kind by retweeting the photo and adding, "Happy Valentine's Day... see you soon."
If you're thinking, "Hey, doesn't Brown deserve more than just a retweet?" Don't worry, Sartorius is no fool. He also posted a photo to his Instagram story of Brown sitting on his lap and the two laughing. "Happy valentine's day to this beautiful girl... I miss eating chick fil a with you every day," it read. Honestly, may you all find someone who just wants to each Chick-fil-A with you everyday.
Isn't young love great?
Brown is just the epitome of Cool AF and I'm always here for it. She's a great actress, funny, and her style is always on point. The Stranger Things star has been stealing everyone's hearts since she first appeared on our screens as Eleven. But she seems to only get cooler and cooler. I mean, Brown is just 13 years old, and I'm a full-grown, adult woman, but I'll likely never be as cool as she is. But that's OK, I've made my peace with it (spoiler, I haven't made my peace with it). So you know that I'll be following her adorable relationship very closely. Stay tuned.