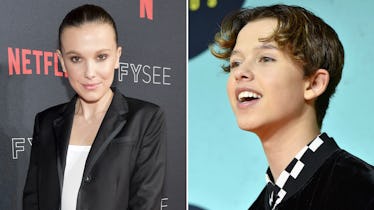 Millie Bobby Brown & Jacob Sartorius Have Split & Their Statement Is Mature, Unlike Me At 14
Rodin Eckenroth & Bryan Bedder/Getty Images Entertainment/Getty Images
You know things aren't going well for you when two teenagers are coping with their breakup better than you're coping with Ron and Sam's 2010 breakup from the Jersey Shore. (Yes, still.) Millie Bobby Brown and Jacob Sartorius have split and they're handling it with all the grace and maturity of extremely well-adjusted adults who seem to have had perfect childhoods and benefit from both financial and mental stability. God bless them. While fans are surely sad these two treasures have decided to part ways, I think we can also agree they're going to be juuuust fiiiine. Plenty of fish in the sea. Plenty of years to tease fans with epic on-again, off-again romances and stock up on wild relationship rumors and woes.
Brown, 14, and Sartorius, 15, announced their breakup news on their respective Instagram stories by sharing short, simple, mature messages to their fans. Brown wrote, "The decision with Jacob and I was completely mutual. We are both happy and remaining friends." Sartorius wrote the exact same thing, but he included an ampersand, writing, "The decision with Mills was completely mutual & we are both happy and remaining friends." Both celebs included heart emojis, and I think it's cute he calls her "Mills." (Just a subjective opinion.) Both stars shared their posts on Tuesday, July 31, roughly seven months after they began dating.
Sartorius has 9.2 million followers and Brown has 17 million followers, which I think we all agree is simply too much for people their age. (The pressure! The exposure! The trolls!) But, the fact is, these two are clearly riding the fast-track to megastardom and their fanbase and the press is just trying to keep up.
Brown obviously won over the world with her epic performance as Eleven in the hit Netflix series Stranger Things, and Sartorius has made a name for himself in the pop music industry and as an internet personality. His 2016 debut single "Sweatshirt" reached the Hot 100 charts in both the States and Canada.
Honestly, they were a match made in perfect-skinned-teenage-celebrity heaven. Like, would you please look at this? WHY IS THIS REAL LIFE?
I don't trust it.
Regardless, these two seem totally focused on their respective careers and don't show any other signs of slowing down. Season 3 of Stranger Things is coming up and you know Eleven is Brown's first-love, anyway. Brown recently told Variety her character's evolution has been "difficult and deep," (again, reminding me of Ron and Sam here) and that she's anxious for what's to come.
Sartorius currently has a bunch of concerts scheduled through the end of August, and based on his cool-guy image on Instagram, I can only assume there's loads more to come from him, too.
While these two may never have the chance to know love like Ron and Sam did, it was at least good while it lasted. Onwards and upwards, guys.
Check out the entire Gen Why series and other videos on Facebook and the Bustle app across Apple TV, Roku, and Amazon Fire TV.