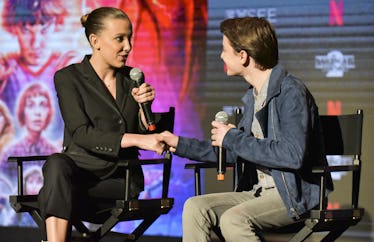 Eleven's 'Stranger Things' Season 3 Story Is "Beautiful," According To Millie Bobby Brown
Rodin Eckenroth/Getty Images Entertainment/Getty Images
Stranger Things Season 3 took a while to get started with filming, but now that things are officially underway, there have been hints of what's to come dribbling out of the production. That continued this week as cast members Noah Schnapp (Will Byers) and Millie Bobby Brown (Eleven) joined director Shawn Levy and casting director Carmen Cuba for Netflix's version of upfronts, known as FYSee. While the four managed not to blurt out spoilers, Brown did reveal Eleven's Stranger Things Season 3 story is something really beautiful for her to play.
But perhaps the most important piece of information to come out of the Stranger Things press gathering is Netflix has accepted the show cannot be rushed through the filming process and it will be best for the show to be slated for a 2019 release date.
Not that there is a date yet. Fans can hope Levy and company will be able to get a bit in front of the schedule in time for the series to arrive around Christmas. But the reality is if Netflix is slating it for "2019" fans are just going to have to accept the wait will be as long as it will be for Game of Thrones to return.
As for what to expect in Season 3, Brown was very eloquent about her character's new direction. Speaking to Variety, she said:
It's a beautiful storyline for Eleven this season. It's really a coming of age for her and understanding what being a normal teenage girl is.
Brown said working on the series has really helped her grow as an actress.
I found another side of my acting that I didn't know about. I found techniques on how to cry and how to get angry, and I learned so much from Eleven, from those episodes of being isolated, that when I'm back Season 3, things happen — stranger things happen. I'm just saying I use that style of acting now and my method of acting for Season 3.
As for Schnapp, according to Variety, he said on the panel he's very excited for the direction Season 3's script takes his character and the story in general.
Season 1, I feel like, was more playful. Season 2 was a lot darker. And then Season 3 does really well blending them together, and that's what I love about it.
Meanwhile, Levy took a moment to sort-of apologize for how badly the show underused him in the first season.
We always knew when we cast Noah — we need a one-in-a-million kid, but then we're going to ask him to do very little for a year, and then see if we get lucky enough to get a second season. Because if those two things line up, this kid's going to become the centerpiece, and Noah is at the center of Season 2, and it's really just an exceptional performance from him.
Casting director Carmen Cuba took time to talk up some of the new characters for Season 3, including Maya Hawke, who just starred in the BBC's adaptation of Little Women, which finished airing on PBS this past weekend.
I enjoy that they enjoy [the casting process], so it was fun, but the whole time I was like, they better pick Maya Hawke. What's great about her is — just like these kids and the other ones — is that she's just an individual.
But the show is never just about one character. Stranger Things is an ensemble show and proud of it. Levy credited this as why the show is so popular, saying even President Obama loved it for this reason.
President Obama said, 'I really like how you guys all have each other's back. I like how no matter what's happening on that show, you're all there for each other.'
The audience will be there for them too when Stranger Things returns. The show is slated to arrive on Netflix in 2019.