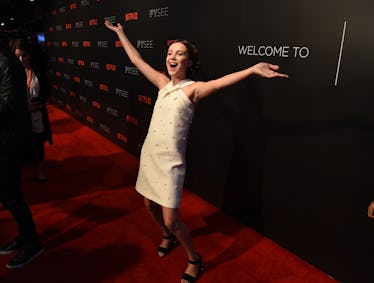 Millie Bobby Brown Made Eleven Proud With This Major Instagram Moment
Kevin Winter/Getty Images Entertainment/Getty Images
If you haven't been watching Netflix's Stranger Things, what are you even doing? You get a pass only if you've been trapped in the Upside Down, everyone else pause what you're doing and go binge seasons one and two right now. OK, now that you're back, we're sure you have a lot of questions, as do we all, but we're also sure you're totally obsessed with Eleven. She truly is an iconic character, and Millie Bobby Brown who plays her is just as amazing. So, it totally makes sense that Millie Bobby Brown now has 11 million Instagram followers, and what a perfect number that is.
Of course, Eleven should have 11 million followers. We cannot believe this amazing actress is only 13 years old from all the Instagram-worthy content she is posting on the regular. If only we could get a few social media tips from her, we're sure we could have killer Instagrams as well. But then again, it doesn't hurt that Brown is also adored by millions of fans all over from her hit TV show that earned her both a SAG Award and Emmy nomination. Her fans are just as excited about the huge Instagram milestone as she is, and they started sending out their support and love via Instagram and Twitter.
Brown celebrated the milestone on her Instagram with a photo of herself and flowers from Don de Fleurs that spelled out her initials and her lucky number 11 in roses. She even captioned the picture, "11 MILLIEon." It's very punny, and now we know how this girl got to 11 million followers. We've all been there where we have the right photo, and are just stuck on what to caption it. Clearly, Brown doesn't have that trouble and we'll be looking to her for more Instagram caption help in the future.
It's actually not hard to see how she got so many followers with every great picture she posts. Yes, we're taking notes on how to have an Instagram account worthy of so many followers. We've learned the following lessons on how to have great content for our Instagrams, so we're up to the standards of Millie Bobby Brown.
Have Stunning Pictures Of Just Yourself
We all can't have Vogue photoshoots like Brown, but we can take note of the importance of a good shot of yourself. You can never go wrong with a flawless selfie on Instagram. So, here's some inspiration to remember when you're going for that photo of yourself for the 'gram.
Don't Forget To Post Pictures With Your Friends
It doesn't hurt that Brown's friends include the entire cast of Stranger Things, Drake, and Jimmy Fallon. If only we could get some of that star power in our pics, but your number one girl squad is just as much star quality to you. Along with your killer selfies, don't forget to post a few pics of yourself with your besties.
We really can't get over how great and adorable Brown is, and this huge milestone could not have gone to a better person. It's not the only huge accomplishment Brown has reached this year. Stranger Things Season 2 was released on Netflix in October, and Brown just received a SAG nomination and the series was nominated for a Golden Globe for Best Drama Television Series. Brown has a lot to look forward to in 2018, and took the time to post this inspiring video to both her Instagram and Twitter celebrating 2017.
We just wanted to say congratulations to Millie Bobby Brown on your 11 million followers. If we could, we would send you 11 million Eggo waffles.