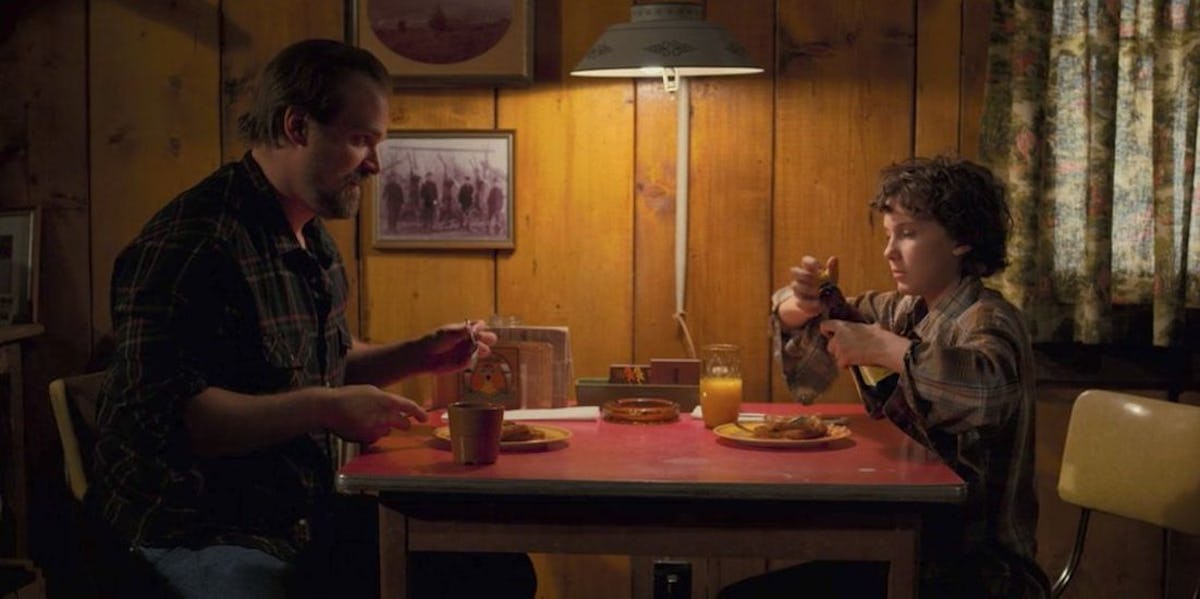 Eleven Congratulated Hopper On His Golden Globes Nom With A #DadDance & We're Melting
Netflix
Stranger Things Season 2 didn't conquer the Golden Globe nominations this year, but it didn't do so badly for itself either. Like Season 1, the show racked up two nominations, one in the acting category and one for Best Drama Series. Last year, Winona Ryder was nominated for her performance as Joyce Byers. This year, the recognition went to the man fans assume will eventually be her on-screen love interest, David Harbour, for his role as Chief Hopper. Adorably, his on-screen daughter, Millie Bobby Brown, who plays Eleven, congratulated Hopper on his Golden Globes nomination.
While some fans had hoped to see Brown land a nomination for her work in Season 2, others were less surprised to see her passed over in what is already a crowded Supporting Actress category this year. Part of the reason may be because the second season kept her away from the majority of the cast for story reasons, which robbed her of the chance to do better work.
That meant Brown's best work this season was done with only one main character: Harbour's Hopper, who had become Eleven's father figure and warden, as he worried about allowing her — and her abilities — out into the world. Their relationship became the heart of the second season, which makes Brown's congratulatory tweet even sweeter.
David Harbours "Dad Dance' from Stranger Things has been a bit of a meme for the last couple of months. The hashtag is one that's been floating around on Twitter for a while, showing grown father figures attempting — with varying levels of success — to get down with the rhythm on the dance floor.
Though Stranger Things probably didn't even realize they were playing into this meme at the time they staged the scene, having Hopper do something similar as he introduces Eleven to his (admittedly dated and hilarious) music collection was a genuinely delightful moment for fans.
It instantly went on Twitter in gif form.
Brown, like any 13-year-old, is obsessed with Twitter and probably would have been one of the first of the cast to see this meme go over so well, so it's not surprising she immediately referenced it in her shout out.
As for what will happen if Harbour wins, perhaps the Golden Globes would be lucky to see him get on stage and do the #DadDance for real? The Golden Globes are a dinner affair instead of a straightforward presentation in an auditorium like the Oscars, and over the years, we've had a few winners get up after having one too many drinks and have a little fun on their way to the microphone.
But then again, we already know what Harbour does in that situation, like at last year's SAG Awards. The Screen Actors' Guild also does a dinner-type setting for its annual awards show, and when Harbour hit the microphone, he just spoke from the heart. His speech instantly went viral, both for the content and for Ryder's facial expressions, as she realized that her costar had just gone rogue, as they might say in D.C.
But if Harbour does win, I actually don't think he'd give a similar speech, having gotten it out of his system last year — though I would expect at least one reference to this SAG Awards speech from last year.
Instead, he'd probably find a new way to get everyone talking. Maybe he'll just dance, and if he does, we can all thank Brown for reminding him of how much fans love that scene.
Harbour had yet to respond to Brown's tweet at publication time, but between his current Hellboy project and mornings full of coffee and contemplation, I'm sure he's just busy.