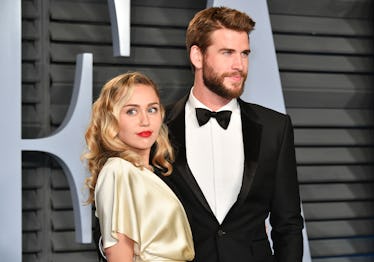 Miley Cyrus & Liam Hemsworth Reportedly Canceled Their Wedding For This Devastating Reason
Dia Dipasupil/Getty Images Entertainment/Getty Images
The celebrity breakup epidemic strikes again, and this time, it's claiming one of your most treasured celebrity couples. Miley Cyrus and Liam Hemsworth have reportedly canceled their wedding, and frankly, that just sucks. Fans have been rooting for the on-again, off-again couple for years, but it sounds like this time there is one specific thing they simply can't reconcile. Hemsworth and Cyrus are reportedly not on the same page about when to have children, according to a Daily Mail report. Elite Daily reached out to Cyrus and Hemsworth's teams for comment but did not hear back by the time of publication.
The insider said Hemsworth, 28, wants to start a family and is ready to become a father. However, Cyrus, 25, isn't quite there yet. According to the source, tension has reportedly been building for some time. "He wants kids and doesn't want to keep putting it off but it's not quite the timeline Miley had in mind. He is left heartbroken," said that source. "Miley put off plans for the wedding and Liam was growing tired of it. They haven't been getting along in recent months."
Actually, the source claims Cyrus has never been truly sold on the idea of marriage, either. Even though she's worn an engagement ring and created a whole new album based on her rekindled romance with Hemsworth, Cyrus has been slow about making plans to walk down the aisle. The insider said, "[She] didn't really want to get married. It's something that everyone else seemed to get but Liam. [His] family had been begging him to see the light for a long time, but he had faith in Miley. Now he feels like an idiot."
It really did seem like the hard days were behind this pair when Cyrus released her love song, "Malibu." The easy-breezy medley was a tribute to her and Hemsworth finding their way back to one another after being on the rocks for so long. In the track, Cyrus croons,
I never came to the beach or stood by the ocean / I never sat by the shore under the sun with my feet in the sand / But you brought me here / and I'm happy that you did' / Cause now I'm as free / as birds catching the wind
But here I am / Next to you / The sky is more blue / In Malibu / Next to you / In Malibu / Next to you
In the "Malibu" music video, Cyrus' engagement ring is on clear display.
Today, if you try to find Miley Cyrus on Instagram you'll see she's wiped her account clean. 76.2 million followers... zero posts. Sure, it might have nothing to do with her canceled nuptials, but it does seem suspicious.
To throw salt on the wound, Hemsworth's last Instagram photo is a picture of himself playing a saxophone with the caption, "I think it's safe to say I'm bringing saxy back. ;) Dad jokes. (Not actually a dad)."
Not actually a dad...? Oof. That makes me want to turn into the facepalm emoji. All fans can do right now is wait for more information and watch The Last Song on repeat. I'll leave you guys with this to get you started.