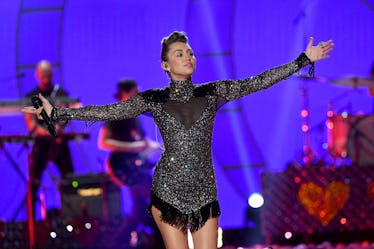 Miley Cyrus Revealed If She Was High During Her VMAs Performance With Robin Thicke
Kevin Winter/Getty Images Entertainment/Getty Images
If you took a snapshot of each iconic moment in Miley Cyrus' life, she would look different in every single one. This woman has been capable of reinventing herself in each stage of life to match the experiences she's endured. You have to absolutely love her for it. Lately, Cyrus has been more transparent than ever and has done tons of fun interviews. Specifically, Miley Cyrus' Carpool Karaoke video exposed a lot of surprising details about the singer.
Cyrus and host, James Corden, sang all the hits during their ride. If you watched the entire video without breaking into song, you are far stronger than I am. Of course, as most interviews with Cyrus, conversations eventually led to the infamous 2013 VMAs. Cyrus and Robin Thicke performed their smash hits, "We Can't Stop" and "Blurred Lines," together on stage. It was during this performance we all learned what rhymed with hug me: a foam finger and twerking.
Cyrus' twerking all over Thicke was the talk of the town, and many speculated it was what brought his then-wife, Paula Patton, to file for divorce.
However, Cyrus used that controversial moment to grow and develop as a person and activist. She told Corden,
I think the first VMAs — the 2013, twerking, Robin Thicke VMAs — led me to being the activist I am now because I realized if that many people were gonna talk about something I did, or something that I do, then I should make it a good thing. And I should make it something that can change people's lives rather than be a controversial conversation that does nothing but become a fun Halloween costume for people.
Cyrus' reference to the fact that everyone has been (or has known someone) who dressed as 2013 VMAs Miley for Halloween is amazing. Miley went on to explain that her transformations were a way to differentiate herself from her Disney days. However, she has learned to appreciate the places she's been because it has made her the Miley we all know and love today.
I think there was something when I first stopped doing Hannah Montana where I was saying, 'I'm not that! I want you to know who I really am!' But I love that that was me and is me and is a part of me. I think I've allowed that childhood self to shine through a little bit more because I'm not trying to run away from it, I'm down to embrace it. I think that's good for everyone. Everyone should embrace who they used to be because that's made you who you are now.
Cyrus has truly learned a lot through her journey.
One of the more shocking changes Cyrus made while working on her album, Malibu, was when she announced she has stopped smoking marijuana. But it's "just for now." She clarified,
To quote the wise Justin Bieber, 'Never say never.' But right now I want to be clear.
Corden invited Cyrus to play a game of "high or not high." He named a few moments and Cyrus rated on a scale of one to ten how high she was when it occurred. The answers were surprising.
During the 2013 VMA performance, Cyrus said "zero" — she was not high at all. She explained, "I can't smoke before I go on stage, I get too scared"
Corden then jokingly asked how high she was the first time she listened to "Achy Breaky Heart" by her father, Billy Ray Cyrus. Her hilarious answer, "Wasn't, but I wish I was."
Most surprisingly, Cyrus rated herself as a "ten" while filming the music video for "Wrecking Ball." You know, when she's swinging naked? I don't blame her, that would make anyone feel a little uncomfortable.
Cyrus' episode of "Carpool Karaoke" was definitely everything I hoped for and more. We love you, Miley!
Check out the entire Gen Why series and other videos on Facebook and the Bustle app across Apple TV, Roku, and Amazon Fire TV.