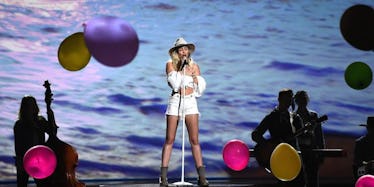 Miley Cyrus Opens Up About The Real Reason She Completely Changed Her Image
Ethan Miller/Getty Images
It's no secret Miley Cyrus loves changing up her look. Her most recent transformation came before the release of her latest single, "Malibu." Cyrus has traded in her edgy look for something a little more mellow.
Cyrus opened up in the August issue of Harper's Bazaar about what provoked this change in style. Cyrus said,
It became something that was expected of me. I didn't want to show up to photo shoots and be the girl who would get my t*ts out and stick out my tongue ... In the beginning, it was kind of like saying, 'F*ck you. Girls should be able to have this freedom or whatever.' But it got to a point where I did feel sexualized.
Cyrus made the interesting comparison of her "Wrecking Ball" era to her time on Hannah Montana. She explained how surprised people were by the revealing clothes and tongue-wagging,
People were so shocked by some of the things that I did ... It should be more shocking that when I was 11 or 12, I was put in full hair and makeup, a wig, and told what to wear by a group of mostly older men.
TBH, that is way creepier when you think about it. Although the 24-year-old singer is embracing this time in her life, she doesn't look back with any regrets. She said,
People have known me since I was so young, they think they know me ... I heard so many comments like, 'We just want Miley back.' But you can't tell me who that is. I'm right here.
Let's take a moment to reflect back on Miley's looks, using lyrics from her most popular songs:
You Get The Best Of Both Worlds
I Put My Hands Up, They're Playing My Song
It's The Climb
I Came In Like A Wrecking Ball
Yeah I Smoke Pot, Yeah I Love Peace
Next To You In Malibu
Despite changes in hair, makeup, and clothing, one thing is for certain — it's still Miley Cyrus. She mentioned the reactions she received from people,
Like, people will say, 'You've changed.' And that's supposed to be derogatory ... But you are supposed to change all the time.
Her main focus now is being a role model, no matter how she's dressed. Cyrus said,
Who gives a sh*t? Because I got my t*ts out before doesn't make me less of a role model. I think I show people that they can be themselves. I also think something that has been important for me, in this next little, like, transition phase of my career is that I don't give f*ck about being cool. I just want to be myself.
Cyrus recently announced she has stopped smoking marijuana. But it's "just for now." She clarified,
To quote the wise Justin Bieber, 'Never say never.' But right now I want to be clear.
I quote Justin Bieber almost daily, so I like this. If you don't, you should go and love yourself. In my opinion, Cyrus is at the absolute top of her vocal and songwriting game. Her father, Billy Ray Cyrus, agrees. He told ET during an exclusive interview,
She's firing off all cylinders. Her thoughts, her instincts, everything is at the top of its game ... Sometimes you have to clear out the junk, and then you realize what's most important. Whatever is going on, it's working for her.
Regardless of where she goes next, it seems that Miley Cyrus is happy with her look and career. Can't wait to see what's next.